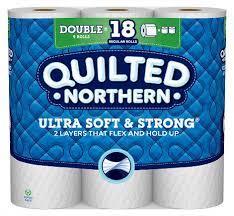 For over a century, Quilted Northern® has been a pioneering force in the world of bath tissue. Throughout its history, the brand has continuously introduced groundbreaking innovations to the market. It started by being one of the first brands to undergo sterilization in the 1920s, ensuring hygiene and safety for consumers. In the 1930s, Quilted Northern® became known for its "splinter-free" feature, making it a preferred choice among users.

The brand's commitment to improvement continued in the 1960s when it introduced two layers, enhancing the product's performance and comfort. More recently, in 2008, Quilted Northern® took it a step further by offering a three-ply option, catering to varying preferences and needs.

The latest advancement, Quilted Northern Ultra Soft & Strong® recyclable paper packaging, has now hit store shelves and online platforms. This remarkable innovation is set to make a significant impact by eliminating almost 500,000 pounds of plastic waste annually. Responding to the growing demand for eco-friendly products, the new packaging combines sustainability with comfort, allowing consumers to easily recycle it at home in curbside bins.

The development of the recyclable paper packaging involved extensive testing and analysis by the brand team. They considered various aspects, including manufacturing, shipping, production, and stocking, to ensure the highest standards of sustainability were met. As a result, Quilted Northern® proudly stands as the first toilet paper brand to offer this environmentally responsible packaging.

The recognition for the brand's efforts came in the form of the 2023 SEAL Environmental Initiatives Award in the Sustainable Materials Usage category. SEAL, an esteemed environmental advocacy organization, celebrates companies and leaders worldwide for their tangible contributions to sustainability. Winning this award acknowledges Quilted Northern's dedication to making a positive impact on the environment.

The commitment to sustainability goes beyond the packaging innovation. In 2012, Quilted Northern® invested in state-of-the-art paper-making technology for its Ultra Soft & Strong® bath tissue. This cutting-edge technology optimizes water and energy usage during the drying process, resulting in 30% less water consumption and 30% less energy usage per sheet compared to other premium two-ply brands.

Additionally, since 2020, Quilted Northern® has joined forces with the Arbor Day Foundation® to further its sustainability initiatives. Through this partnership, the brand actively contributes to forest restoration efforts by planting two trees for every one used in the production of its Ultra Soft & Strong® bath tissue. Furthermore, the brand's suppliers plant an additional tree for every three used. This collaborative effort has led to the successful planting of over 5 million trees, contributing to the restoration and rehabilitation of forests and habitats.

In conclusion, Quilted Northern® has consistently demonstrated its commitment to sustainability and innovation over its long history. Through advancements like recyclable paper packaging and eco-friendly production techniques, the brand continues to lead the way in creating a more environmentally responsible and comfortable bathroom experience for consumers.