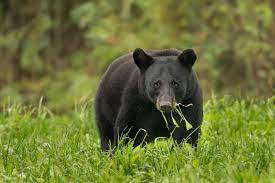 Through a
Forestlands Stewards
partnership, the National Fish and Wildlife Foundation (NFWF) in partnership with International Paper continue to collaborate to fund the restoration of habitat for the Louisiana black bear, waterfowl in the Lower Mississippi Alluvial Valley and forest birds.
Recently, NFWF
announced
6 new grants totaling to around $2.6 million awarded through the
Lower Mississippi Alluvial Valley Restoration Fund
(LMAV Fund), funded partly by International Paper.
As a result of these grants, grantees will be able to continue their important work to revitalize, protect and enhance ecologically important forest and wetland habitats in the Lower Mississippi Alluvial Valley region of Arkansas, Louisiana, Mississippi, Illinois, Kentucky, Missouri, and Tennessee.
The grants will leverage $4.5 million in matching contributions to generate a total conservation impact of $7.1 million.
"These six projects will expand current restoration efforts to restore bottomland hardwood forests, wetlands and floodplain habitats on both private lands and public lands," said Jeff Trandahl, executive director and CEO of NFWF.
He went on to add, "We are five years into funding work across boundaries to scale up restoration efforts that benefit waterfowl, forest birds and other wildlife. Local communities and landowners will see tremendous benefits as well, from better hunting and fishing opportunities to improved water quality, natural carbon sequestration and reduced flooding."
With more than 80% of the region's forests being in private hands, grantees will engage private landowners in restoration efforts through outreach and technical assistance. Projects will increase and improve forested wetland habitat, interconnect existing forests which will provide travel corridors for wide-ranging species including the Louisiana black bear.
The bears remain protected by state laws, which currently do not allow hunting of these animals.
According to the Louisiana Department of Wildlife and Fisheries, black bear population is now considered viable over the next 100 years.
"The efforts to protect habitat for wildlife also benefit landowners and the surrounding communities by improving water, air and soil quality and creating economic opportunities through recreation," said Terry Cosby, Chief of the USDA Natural Resource Conservation Service, an LMAV Fund partner.
impact of the six projects
Planting of 1.3 million trees to create and interconnect forest habitat thus increase carbon capture and storage.
Restore 2,500 acres of wetland and floodplain habitat, benefitting myriad species. Incidentally 40% of all species live or breed in wetlands.
Enhance more than 1,200 acres of existing forest to improve habitat conditions.
"Projects planned and supported by these funds will help to continue this amazing work for the plants and animals of the region and will contribute a large part towards conserving America's lands and waters for the benefit of all people," said Leopoldo Miranda-Castro, the U.S. Fish and Wildlife Service's Regional Director, an LMAV Fund partner while adding,

"As part of International Paper's Vision 2030 goal of restoring and conserving one million acres of ecologically significant forestland, we are proud to support these six projects to restore and maintain healthy hardwood forests and wetlands in the LMAV," said Jeremy Poirier, International Paper manager of fiber certification and sustainability.