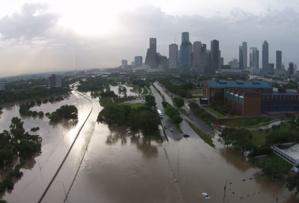 Well Fargo & Company
's Mobile Response Unit will mobilise and deploy in the Houston area so as to help customers mitigate damages from the recent floods that have cause widespread hardship and financial as well as literal damage to the area. Well Fargo's Mobile Response Unit will also help the customers with
housing recovery assistance
.
Its Houston Mobile Response Unit is located at 4010 S Braeswood Boulevard. Customers may visit it from 9AM to 7PM on working days and at 9AM to 2PM during weekends. This facility is available upto 2
nd
July.
"Our thoughts are with our customers who were impacted by the flooding in
communities across Texas
. We care deeply about our customers and team members living in these communities and our Mobile Response Unit is one way we can help them recover," said Wells Fargo Regional Bank Executive, John Sotoodeh.
Built and designed to bring valuable information directly to customers, the Mobile Response Unit, is a 75-feet long, heavy duty commercial truck that essentially is an "office on wheels." Equipped with computers it has even private office spaces equipped with cellular data feed and satellite backup. For powering all of its gadgets, it has built-in generators.
It houses specialised teams that provide in-person insurance claims and checking procedures, mortgage assistance, as well as tips to repair and kick-start the recovery process, in the event of a flood, such as the current scenario.
Those customers who are faced with mortgage payment challenges will have the opportunity to have a face to face meeting with home preservation specialist as well as HUD-approved credit counsellors, with whom they could explore further options open to them. The Mobile Response Unit came about in response to the calls of hundreds of customers whose homes had been damaged in natural calamities such as the Colorado wildfires, Hurricane Sandy and the Oklahoma tornados.
"One of our core beliefs is to quickly respond to communities, and customers, when they are faced with tragic disasters like this," said the head of Wells Fargo Home Mortgage Servicing - Michael DeVito. "We have learned that being able to respond to customers in-person can speed up the process for recovery, and we are committed to doing our part to bring relief to customers in Houston."
Mortgage customer assistance
Those customers who are residing in Houston and who have been affected by the floods can call
888-818-9147
for the Wells Fargo Disaster Assistance Team. With the help of the team they can discuss or get assistance insurance claim loss from property or payment arrangement for the same.
The Disaster Assistance Team is available on all weekdays from 6AM to 10PM. On Weekends they are available from 8AM to 2PM CST. Customers can contact them for information, guidance, and assistance regarding loans.
All other customers who have been affected by the floods can call and/or contact Well Fargo anytime during the day or night. Their numbers are 1-800-TO-WELLS (1-800-869-3557). For additional details please visit Wells Fargo's
Get Help with Disaster Recovery
site.
References: