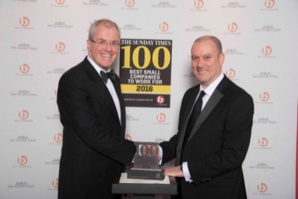 Dailycsr.com – 25 March 2016 – The "Sunday Times 100 Best Small Companies" list named the SoloProtect at the 85
th
place, whereby SoloProtect, a specialist in lone worker will be working for the year of 2016 at the "Best Companies Event".
The list covering Soloprotect among "Sunday Times 100" is being exhibited at the "Health & Safety Event on stand D74". Soloprotect is into the manufacturing of "Identicom", the latter being the "most widely used dedicated device for lone workers" in the regions of the United Kingdom.
Making a debuting appearance in the said list was a delightful affair for the firm as last year marked the first entrance into the same. Giving more information about Identicom, HSW writes:
"Identicom – a small, mobile communications device that looks exactly like a worker's ID badge is now used by more than 150,000 lone workers".
While, the Managing Director at SoloProtect United Kingdom, Craig Swallow stated:
"SoloProtect's inclusion in the Sunday Times 100 list for the first time was genuinely exciting – and all down to our staff, and how engaged they are with what we're doing in the business, and what we hope to do moving forward".
References:
http://www.healthandsafetyatwork.com/