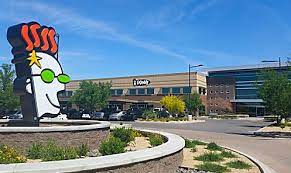 A small interview with GoDaddy's Richa Gandhi

Give us a brief outlook on your role at GoDaddy.
I work on Domain Control Center products as a Senior Software Engineer on the DRI team. I've been with GoDaddy for more than seven years. In 2015, I began working at GoDaddy immediately after receiving my Masters in Computer Science. The last seven years have been incredible — I've really matured into myself! I began calling the United States my home after moving from India in 2012, became a mother of two young daughters, and have had the opportunity to work on a variety of projects here. I've been involved with GoDaddy since its inception.

This is an Employee Resource Group devoted to fostering a sense of community among recent graduates. As a mentor to these individuals, I assist them in adjusting to and feeling at ease in a corporate setting. As part of the recruitment process, I had the opportunity to visit Stanford and Pittsburg University in 2016 and 2017. This was a very rewarding experience.

Expand on your experience as a women in GoDaddy.
I've been the only woman on my team for quite some time. Even though you might expect me to face adversity, I have never felt treated unfairly, which is incredible. GoDaddy provides generous Maternity Leave, allowing me to spend quality time with my children. GDWIT, an Employee Resource for Women, has been a support system during the pandemic's many uncertain times.

What is one thing you recently discovered about yourself at work?
Since joining GoDaddy, I've always been an IC. This role is required until you reach level three. After this level, you have the option of becoming an IC or taking on a leadership role. However, I was given the opportunity to lead a few large projects. TransferIn rewrite and new DOP products are included! Through this experience, I interacted with key project stakeholders and communicated with Product and Program Managers. Throughout the process, I discovered that I am extremely skilled at mentoring junior employees, communicating with stakeholders, and resolving issues. I received praise for "Joining Forces" for both projects.

Because of these opportunities, I've decided to take on the role of Engineering Manager this year.

Did you have to unlearn anything at work?
Perfectionism was something I had to unlearn. We often believe (especially as women) that "perfect" work is always superior to "good" work, but this is not always the case. Because it takes time to perfect a project, other tasks must be prioritised. It is not always necessary for good work to be flawless.

Your advice to women interested in this field.
Be curious and self-assured. In the tech industry, you must always be learning. Since joining GoDaddy, I've been able to learn a plethora of new languages and technologies. It is critical to constantly improve your technical skills while also understanding your interests. When I first started, I was a frontend engineer, which did not suit my interests. So I switched to Backend and am in love with it. Don't be afraid to share your thoughts! Speak with confidence to your manager about which career path you want to take. I wish I had discovered this sooner rather than later!

Any suggestions for the GDWIT group?
For a long time, I was the site lead for the Iowa location, and I saw women and allies get really excited when they discovered common interests among the group. It's more difficult to find common ground with your coworkers when you work from home. I'd like to create that space in a virtual environment as well. It would be fantastic to have subgroups within GDWIT where members could chat and discuss topics of mutual interest. Recipes for healthy eating, travel tips, and so on are examples. We can also try to organize events that are relevant to these concerns.