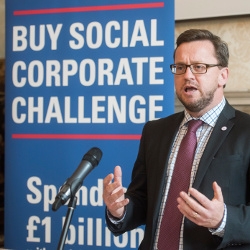 Dailycsr.com – 26 April 2016 – The Responsible Business Week is being sponsored by the Business in the Community. The said week started at the "11 Downing Street" and launched the "£1bn Buy Social Corporate Challenge".
The challenge represents an effort towards pushing "big businesses" to obtain goods and services" from the United Kingdom's "social enterprise sector".
The Social Enterprise sector of the United Kingdom along with the "Cabinet Office" will be working in collaboration with large corporate figures like "RBS Group, Johnson & Johnson, PwC, Santander, Wates, Zurich, and Interserve" for training the respective "procurement teams" on the methods of sourcing and purchasing from the social enterprises along with the "benefits to be achieved".
The teams, thus prepared, will be given "advice" on "measuring the impact" of their expenses occurred with "social enterprises", besides learning "how to use the data in sustainability reporting and bid writing".
References:
http://www.ethicalperformance.com/