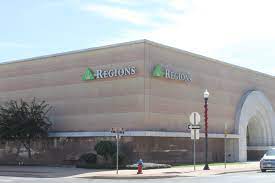 Regions Bank wants you to take control of your financial future! This Financial Literacy Month, they're inviting consumers and businesses to take a fresh look at their financial health with a free review. With Regions Next Step, their no-cost financial education program, you can learn how to build your savings, reduce your debts, and reach your financial goals.
Let's face it, money management can be tough. But recent surveys by Regions Next Step have found that many Americans have serious questions and concerns about their financial futures. That's where Regions Next Step comes in! They have a wealth of information and budgeting tools to help you start or meet your financial goals.
Did you know that only 35% of respondents think they will save enough to retire comfortably? And that roughly 60% of respondents say they do not follow a budget? Plus, a whopping 76% of respondents are not confident they can withstand an unexpected financial emergency. Don't let this be you! Regions Next Step can help you build the confidence and knowledge you need to take control of your finances.
Whether you have a Regions account or not, their resources are available to you at no cost. So why wait? Start your financial journey today with Regions Next Step!
"Seasons of economic volatility create stress and make a real impact on finances," said Joye Hehn, Regions Bank's Next Step financial education manager.
"With inflation impacting every part of daily living, Regions Next Step is helping people lean into the basics of money management to keep their financial goals on track. Financial wellness is at the heart of how we serve consumers and businesses, and we invite people to not only check out our free tools online but also stop by for a personal conversation in any of our branch locations."
Unlock your financial potential with Regions Bank's suite of tools and resources that are available around the clock! Here are just a few of the resources that can help you take control of your money:
First up, we have budgeting and savings calculators that can help you categorize your spending, address your debt, and increase your savings. With these online calculators, you can develop a budget, keep track of where your money is going every month, and work toward long-term savings goals.
Next, check out the Regions Next Step content library, which includes self-paced, interactive courses on creating a budget, building an emergency savings account, having family conversations about money, and much more. Each course takes just 10 minutes or less to complete, and can be accessed via your mobile device, tablet, or desktop.
Looking for more resources? The Next Step Family Budgeting and Saving Resource Center has got you covered. You'll find articles, podcasts, worksheets, and other financial wellness resources that can help set up your family for financial success through all of life's milestones.
Need help planning and organizing your monthly spending? The Personal Spending Plan Worksheet can do just that.
And for those who prefer one-on-one guidance, our Next Step workshops are available in-person or virtually to address your specific money-management needs. Contact a Regions Bank branch or call 1-800-REGIONS to learn more about hosting or attending a workshop.
If you're a Regions Bank customer, you can also access our convenient financial management tools through My GreenInsights. Available through Regions online banking and mobile app, My GreenInsights allows you to create and track budgets, set financial goals, and even combine external accounts in one place to track your spending and savings.
Don't let your finances control you - take control of your money today with Regions Bank's comprehensive suite of tools and resources!
Financial Literacy Month is the perfect time to take control of your finances, and Regions is here to help with some essential tips!
If you want to stretch your budget and find new ways to save, consider Zero-Based Budgeting. By accounting for every dollar of monthly income, you'll be able to see where your money is going and find areas where you can cut back. And when you save money by spending less than budgeted, move those dollars into a savings account for even greater financial security.
Tracking your spending is another crucial step in achieving financial wellness. At Regions, we offer a free downloadable worksheet to help you keep tabs on your personal spending. By reviewing your spending trends, you can identify areas for improvement and stay on track to meet your budget goals.
Saving a little bit on a regular basis can really add up over time. That's why it's essential to set savings goals and work towards them consistently. And if you need a little extra motivation, try our 52-Week Savings Challenge! By saving just a small amount each week, you can watch your savings grow and build financial stability.
Of course, unexpected expenses can happen to anyone. That's why it's crucial to maintain an emergency savings fund with three to six months of income. And if you're not sure where to start, our podcast has plenty of tips on how to grow your emergency fund.
Finally, paying down debt is a key component of financial wellness. Include your debt payments in your monthly budget and reallocate any funds from paid debt to other debt or savings. With Regions by your side, you can take control of your finances and make life better in your community. In 2022, we provided financial education to over 2.1 million people across the Southeast, Midwest, and Texas, and our resources were downloaded nearly 150,000 times. Our associates completed over 9,800 financial education volunteer hours, demonstrating our commitment to helping everyone achieve financial wellness.
"Regions Bank works with many community organizations to connect financial education opportunities to more people," said Wendi Boyen, community advocacy and financial wellness manager for Regions Bank. "Regions takes an inclusive and accessible approach toward providing helpful insights and encouraging people to take the next step in their financial journeys. By working together, we can keep our communities moving forward."
If you would like to know on budgeting, saving and planning, click
here
. Alternatively, you could also visit a nearby Regions Bank branch to speak with a banker directly.