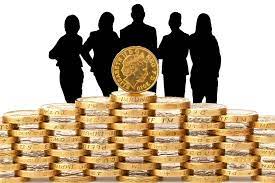 When you think about what a typical banker does, "addressing the racial wealth gap" is probably not the first thing that comes to mind. However, that is at the top of Marcus Brown's job description.

"A Federal Reserve study showed that, on average, Black people have less than 15 percent as much wealth as White people," said Brown.

"We're not able to fix systemic racism as a bank, but we can play a role in addressing that wealth disparity."

As part of that effort, Brown joined the bank's Diversity, Equity, and Inclusion team in 2020 as a strategy manager focused on the Black segment.

He brought a wealth of experience with him, having joined the bank nearly seven years ago in the bank's U.S. Bancorp Community Development Corp., which invests billions of dollars in communities each year, including projects to provide low-income people with affordable housing.

Brown worked as a training and development program manager for US Bank, leading workshops to help employees understand the racial wealth gap and how they can help close it.

"After George Floyd's murder in 2020, there was a real desire among the bank's senior leaders to double down on our commitment to address inequities among the Black population," said Brown.

Brown believes that providing Black Americans with greater access to capital, including personal and business loans, as well as financial education and investment services, can help to close the racial wealth gap.

U.S. Bank launched Access Commitment in early 2021, a long-term strategy aimed at advancing diverse leaders, expanding business with diverse suppliers, increasing ownership and assets for people and small businesses, and investing in Black communities.

"We have been able to more than double the amount of money the bank spends with diverse suppliers and we've implemented a series of initiatives tied to our different business lines," Brown said.

"We're not able to fix systemic racism as a bank, but we can play a role in addressing that wealth disparity."
-Marcus Brown

For example, the bank's mortgage lending division launched Access Home, a programme aimed at increasing Black homeownership by recruiting and training more Black mortgage loan officers, collaborating with non-profit organizations, and providing financial education outreach programmes.

"It has helped provide employees a pathway to go from, say, a job in a call center to a career as a mortgage loan officer," Brown said. "By creating greater Black representation in the business line, we create more market share for Black consumers."

According to him, the various efforts have contributed to a shift in how the bank's various business lines collaborate.

"I'm so proud of how we've broken down silos," Brown said. "We've been able to look across the business lines and get an understanding of what they're working on and finding opportunities to drive synergies, especially around financial education."

The bank also established a leadership academy to assist more Black employees in advancing to positions of leadership. The academy has been expanded to include employees of Asian and Latinx descent.

"These three groups are historically marginalized in America and it's beneficial for us to have programs that build cohorts who can learn from each other and other people at the bank, as well as at other companies," Brown said.

According to him, Access Commitment community programmes help increase financial education, including the role banks can play in assisting people in building credit and, ultimately, wealth.

"We have to deal with the historical distrust of banks among people in marginalized communities," said Brown.

He stated that the various Access Home initiatives are all evaluated for effectiveness and improved as needed.

"It's one thing to just do programs but we've partnered with the Urban Institute to measure our impact and hold us accountable," said Brown.

"We are transparent and report our results in our ESG (Environmental, Social and Governance) report . You don't always see that from financial institutions and I'm very proud of that."