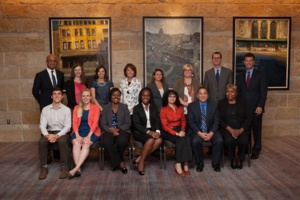 Dailycsr.com – 09 November 2015 – Office Depot, Inc. provides the leading "office products, services and solutions and parent company of Office Depot and OfficeMax" on a global scale. The company revealed in an announcement the name of "a number of organizations" which it recognised "for their leadership in greener purchasing". The said list goes like this:
City of Chicago
DaVita HealthCare Partners
DHL
Greystar Real Estate Partners
International Monetary Fund (IMF)
Rush Enterprises
Spirit Airlines
Strategic Source
Teva Pharmaceuticals
Windfall
The selected ones received the awards in the "Office Depot's Eighth Annual Leadership in Greener Purchasing Awards ceremony". The said event has held on the 8
th
of October 2015 in Denver which also hosted "alongside" the IFMA or "the International Facilities Management Association" through "World Workplace Conference & Expo".
The Office Depot has also been the host of "an educational summit" prior to the award function, wherein various speakers delivered speeches on "best practices in sustainable purchasing". The said representatives came from "Best Buy, DaVita HealthCare Partners, Office Depot and the Sustainable Purchasing Leadership Council"; while David Gottfried, who founded the "Green Building Council" of the USGBC of the U.S. was the one to present the keynote address.
While, the Vice President of "sustainability, adjacencies & public sector strategy" of Office Depot, David Trudnowski remarked:
"Office Depot congratulates the winners of our Eighth Annual Leadership in Greener Purchasing Awards. Purchasing and facilities managers across the country are actively pursuing sustainability as a strategy, and our award winners are showing leadership in implementation of these strategies through daily purchasing decisions."
The winners were picked from the customers of Office Depot which has a "largest1,000 customers" sorted out on their "high green spend percentage compared to others in their sector". Calculations were made to find the spend percentage based on the comparisons "a customer's expenditure on products with eco-attributes". The latter related to "recycled content, energy-efficiency, non-toxicity" among other criteria. The goods purchased were also scanned for "ecolabels" like "FSC, EPEAT, GREENGUARD, GreenSeal and EcoLogo".
The Senior Director of Sustainability at Office Depot, Yalmaz Siddiqui states:
"Office Depot has long had an environmental strategy strongly focused on the B2B marketplace. We know that as we recognize B2B leaders for their green or diverse purchasing efforts, they will be more likely to continue and others will be more likely to follow. We have proven this year over year, and are proud to recognize our newest set of winners."
Suppliers, who sold "eco-conscious products", were also invited for participating "in a sustainability showcase" which took place in the IFMA Expo. Kinberly-Clark's Stewart Van Horn said:
"Kimberly-Clark has had a long-standing commitment to be responsible stewards of the environment. We commend Office Depot for recognizing green purchasing leadership and believe that celebrating customer accomplishments in this way will translate to further action on green procurement."
References:
www.businesswire.com