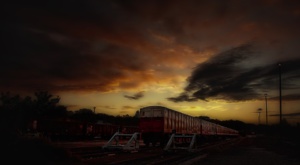 Dailycsr.com – 07 November 2016 – The safety train of Norfolk Southern Corporation moved on to Chattanooga of Tennessee, whereby it hosted "195 area emergency responders" for giving them "advanced training" in safety handling for potential incidents that deal with rail related scenarios and involve "hazardous materials". The 'System Manager' of Hazardous Materials' at Norfolk Southern, David Schoendorfer, said:
"The safety train is a mobile technical training center – a vocational school – for the continuing education of first responders and representatives of government agencies who support Norfolk Southern's commitment to incident-free handling of hazardous materials. It's a whistle-stop train that helps keep our communities safe."
The training sessions were conducted near "Chattanooga Fire Department", whereby attracting "emergency responders from 14 Chattanooga-area and nearby northwest Georgia agencies" that incorporated the "Chattanooga Police Department, Walker County Emergency Services, West Polk County Fire & Rescue, Tricommunity Volunteer Fire Department, Chattanooga Public Works Department, and the fire departments of Chattanooga, Red Bank, Rhea County, Wolf Creek, Bradley County, Soddy Daisy, Hayes, Centertown, and Dayton". In the words of Capt. Chris Cordes from the "Chattanooga Fire Department":
"This is a great training opportunity. You can learn about tank cars and boxcars in the classroom, but nothing beats the hands-on training we received here. When you come to a derailment, it's obviously not sitting on the tracks nice and neat. You have to know what you're looking at, and this really helps us get a grasp of what we might be faced with."
The safety train is on a schedule to visit eighteen cities that belong to thirteen states. By the end of October 2016, "1,710 emergency responders" have obtained "professional instruction". The train provides "free training" at every station for three days, whereby the emergency responders get to choose their convenient timing for attending the "instructor-led and hands-on learning" sessions for free. The safety train has converted two of its box cars into classrooms, besides it sports "four types of railroad tank cars" that are usually used for chemical transportation along with "two specially equipped flat cars".
Moreover, Schoendorfer adds:
"Norfolk Southern has a great safety record, but in the unlikely event of a train derailment involving hazmat, we want to make sure the communities we serve are prepared. We are focusing on areas where we have significant hazmat shipments. It's a best business practice to help with preparedness."
On the 8
th
of November 2016, the train is destined to stop at "Slidell, La.", whereby halting there till the 10
th
of November 2016. For early registration, kindly visit:
www.joinNSoar.com
. The training thus provide by the safety train could benefit delegates from "fire departments, law enforcement, emergency medical services, hazmat response teams, emergency management personnel, military, homeland security personnel, rail regulators, shippers, and customers".
References:
ethicalperformance.com