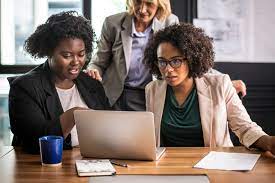 Melvin Cannon approached US Bank in search of funds to expand his fleet of luxury vehicles. Because of the expertise and resources provided by Business Access Advisor (BAA) Micae Brown, he received much more in return.
"Working with Micae has been one of the best things that happened to me in the past year," said Cannon. "She has given me a lot of insight into how I can grow my business."
Brown is one of nine Black American Allies (BAAs) working with the Black community in strategic cities across the country to help redefine how US Bank serves diverse communities.
The BAA role was established in November 2021 as part of the U.S. Bank Access Commitment, a long-term framework that includes multiple initiatives such as Access Business and the creation of BAAs, as well as Access Home, which focuses on closing the homeownership gap where disparities are greatest. BAAs are in charge of filling three major gaps that limit business growth and employment opportunities: information, connections, and capital.
"Melvin originally came to us looking to access capital for his luxury car service,"
said
Brown while adding, "Fast forward and I later assisted Melvin with acquiring new customers by creating custom emails for marketing, updating marketing collateral, assisting with completing RFPs, and providing strategic introductions to other potential partners."
In 2022, Cannon will be one of over 1,000 business owners served by US Bank BAAs. Given that the BAAs have only been in their positions for 15 months or less, the impact has been significant, leading to Small Business Administration recognition in Little Rock and much more.
"Providing knowledgeable professionals who are culturally in sync with the issues minority- and women-owned small businesses face is a qualitative and quantitative resource unique to U.S. Bank," said Charlotte-based BAA Tamika Stafford.
Each BAA has the same overall goal, but their work manifests differently in each city based on local needs and partners.
For example:
Brown advises the Illinois Department of Commerce and Economic Opportunity's Office of Minority and Economic Empowerment and the Small Business Development Center in Chicago on their statewide technical assistance initiative, which includes small business centers and entrepreneurship training.
In Charlotte, Stafford formed a partnership with the US Small Business Administration's small business resource partner SCORE Charlotte, where she serves as a mentor and provides resources, tools, and learning opportunities.
Cassandra Kidd of Little Rock is preparing for her second bus tour with Remix Ideas, which will take her to Northwest Arkansas entrepreneurs and stakeholders. The bus tours allow Kidd to interact directly with entrepreneurs in each city, educating them on available resources.
In the Twin Cities, Tim Farrow launched Access Commitment Live!, a series to share comprehensive and actionable strategies to assist Black-owned businesses in scaling. It began with a successful Black Business Month event and has since expanded to bi-monthly programming and conversations.
Natasha Hutson in Colorado Springs has a strong partnership with the Colorado Springs Black Chamber of Commerce, whose members discuss business start-up or expansion plans with her. She also holds regular financial wealth seminars.
Will Jackson of Oakland is collaborating with the OK Mentoring Program to serve as the primary administrator for financial literacy and will soon launch a business series open to small business owners.
Delphine Pruitt works with Community Development Financial Institutions and nonprofit service providers in Los Angeles to provide access to financial and advisory services.
Ashlei Spivey of Omaha is working to create a community "ecosystem" to support diverse entrepreneurs by strengthening relationships with the few community partners who target diverse business owners.
In Denver, Brandon Willis collaborates with the Denver International Airport and teaches courses on navigating finance in business to help minority-owned businesses win airport contracts.
U.S. Bank has committed to expanding the Access Business program, which was initially launched as a pilot. The BAA's role includes financial education. Pruitt organised a series of financial workshops in collaboration with the Los Angeles Urban League. A workshop participant referred a friend in need of a vehicle to help her business grow. The small business owner was approved for a loan and other tools/resources to help her grow and fuel her dreams in three days.
"This is just one example of how I've enjoyed the opportunity to engage stakeholders and Black business owners to help grow and sustain their business," said Pruitt.
"The impact of COVID–19 caused immense financial distress for small businesses across the country. Black business ownership declined more than 40%, the largest drop across any ethnic group. I'm honored to connect those business owners with resources to help them achieve their goals."
Cannon is considering new financial initiatives for his plans in Chicago.
"Small business owners want to know someone like Micae because she's resourceful in explaining how and when to take the next step. She has been a business liaison for me, but I also think of her as a friend who really cares about my business. She's very genuine and I appreciate her a lot," said
Pruitt.