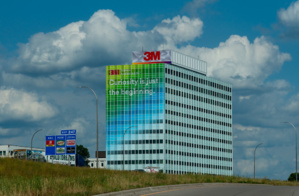 3M will be investing more than $170 million at its Cordova plant in Illinois, to install cutting-edge technology as it continues to pursue its company-wide goal of enhancing the quality of water returned to the environment.

"These local investments in our operations will help sustain our environmental and manufacturing performance into the future, allowing us continued opportunities to contribute to the economic success of the Quad Cities and the entire region," said David Andrews, site leader at 3M Cordova.

He went on to add, "The technology we're adding to our site here in Cordova gets us closer to achieving our $1 billion, 20-year environmental goals for our company, which include improved water quality, reduced water and plastic use, and achieving carbon neutrality by 2050."

3M initiated the plan last year with the aim to slash overall water usage at its Cordova site by 25% while ensuring a return of high-quality water back to the environment after its use in its manufacturing operations.

3M's newly-installed technology customized for Cordova, which features a combination of granular activated carbon, ion exchange, reverse osmosis and other methods will come online later this year, as a result it will enhance already installed systems in the plant.

It is using highly tailored technologies to very efficiently remove suspended solids and carbon-based chemistries, including polyfluoroalkyl substances (PFAS), which may be present in the processed water. It's anticipates to capture more than 95 percent of PFAS in water.

During the second phase of the installation, targeted for the end of this year, 3M will install the capability for the ion exchange portion of the filtration system to regenerate the necessary materials to operate, and thus help reduce the waste byproducts created by the system by a whopping 97%.

The systems that 3M developed and which will be installed at its Cordova plant will serve as a roadmap for future technology investments across the company.

By 2024, 3M plans to install state-of-the-art water treatment processes at certain locations worldwide, which will drive a more than 95 percent reduction in 3M's PFAS discharges globally by 2025, with a goal of more than 99 percent by 2030.