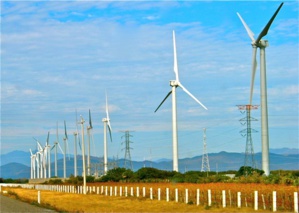 Indigenous Zapotec women are leading the opposition to
Energía Eólica del Sur
's (Wind Energy of the South) plan of building a wind park in the vicinity in order to generate 396MW of electricity that would be fed into the national grid.
Isabel Jiménez is the leader of the
Asamblea Popular del Pueblo Juchiteco
– the Juchiteco People's Assembly – which was founded in 2013 so as to protect the rights of native communities, who were not consulted when wind farms were introduced in their territories.
"It hurts us that our land is affected, and the environmental impacts are not even measured. Wind farm projects affect streams and hurt the flora," said Zapotec Indian Isabel Jiménez. She is party to the struggle against the installation of Wind Parks in Southern Mexico.
She has joined the struggle because the wind turbines endanger medicinal plants, which are essential for her traditional healing work in Juchitán, a city in the state of Oaxaca. "We are right, we know the truth," said Jiménez "That's why we are resisting this, and exercising our rights."
In addition to their local struggle, they have also lodged their protest with the International Labour Organisation (ILO), since the installation of these wind farms are not in compliance with Convention 169 of the Indeginous and Tribal People as well as the
U.N.'s Declaration on the Rights of Indigenous Peoples
, which necessitate that prior, free, informed consent be got before lands belonging to indigenous and tribal people are utilised. Both statutes have been ratified by Mexico.
In November, last year, an Inter-Institutional Technical Committee comprising of delegates from federal government, state and local, began the long process of consultation so as to arrive at a common understanding vis-à-vis the construction of the wind farm. Despite local objections, the informative phase came to a conclusion and they quickly moved on to deliberate the points put up by other parties.
Locals worry that this precedent will set a trend and the same procedure will be used as a model for future projects as well. In the previous year, the country's economy opened up to public and private players in the areas of electricity generation, including renewable energy, oil and gas extraction, including retailing, refining and distribution.
"The problem is that there has been no consultation process to obtain free, prior and informed consent," said Antonio López, a lawyer with the non-governmental
Economic, Social and Cultural Rights Project
(PRODESC). "They are trying to speed up these processes, and the conditions are created to hold a certain kind of consultation process favourable to the projects." PRODESC advises local communities in the area in defence of their rights.
This year, on the 24
th
of April, Zapotec communities filed a lawsuit in federal court against the consultation process that had been carried out. The ruling is expected to be handed down shortly.
References:
http://www.ipsnews.net/2015/06/native-communities-in-mexico-demand-to-be-consulted-on-wind-farms/