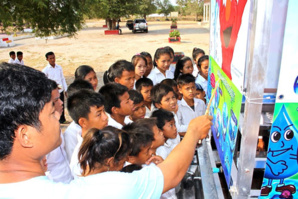 Dailycsr.com – 13 October 2015 – Xylem Inc. has received the "2015 Corporate Citizenship Award" which is being awarded by the "U.S. Chamber of Commerce Foundation". The said company has earned its recognition through its work whereby it has dedicated itself for resolving the "most challenging water issues" in the world. Consequently, it won the title of "the Best Health and Wellness Program". The award is proof of being recognised for its "sustainable access to water, sanitation and hygiene" solution which has been shortly termed as W.A.S.H.
W.A.S.H has been active in providing solutions to water related issues to the "most vulnerable communities" around the globe. The award ceremony also marked the "16th year" of "USCCF Corporate Citizenship Awards" which honoured business bodies that created a positive impact on the global community scale. The ceremony took place in Washington, D.C, wherein the names of the winners were let out.
Xylem Watermark is part of Xylem company's "corporate citizenship and social investment program", whereby the organisation along with the "best-in-class" non-profits work in a dedicated manner towards the betterment of W.A.S.H's infrastructure. Consequently, they aim to reach out to "hundreds of thousands of people in nine countries".
The nature of projects undertaken by W.A.S.H includes renovating washrooms, constructing "new water systems", sanitizing blocks, repairing hand-wash facilities and constructing gravity-fed water towers". The list of organisations with which the Xylem Watermark worked in collaboration for "740 W.A.S.H.-related projects in the past seven years" goes like this:
"Water For People, China Women's Development Foundation, Planet Water Foundation and Fundación Avina ".
In the Xylem Watermark Committee's chairperson, Colin Sabol's words:
"W.A.S.H. education programs and access to safe water, sanitation and hygiene are critical building blocks to sustainable human and economic development. We are especially proud to receive this award because it highlights our program's results and the impact our programs have on local communities."
Wherever communities require water related solutions, Xylem Watermark and its partners reach there to "develop customized" solutions to the water problems. Over the years the team of W.A.S.H designed "broad adoption of smarter W.A.S.H. practices". In such attempts, Xylem Watermark along with the Planet Water Foundation created "Dynamic curricula" wherein the school children learn about water related germs and issues through colour books. Likewise, the team has been "empowering students to become W.A.S.H. teachers for their families and communities".
Recently, the impact report presented by the "Planet Water Foundation" revealed that there has been "80% decrease in diarrheal episodes versus" in India under the above mentioned attempt. Moreover, an additional "27%" children joined in the programme.
In fact, Water For People has similar "train-the-trainer model" wherein it targets "local leaders" and trains them to become "role models and mentors within their communities". Moreover, the employees of Xylem are encouraged to "make their mark through global and regional volunteer trips". In the said process, they take part in "fieldwork in communities" in partnership with non-profit partners whereby advocating "for global water solutions". Nick Hill, the executive chairman of "Planet Water Foundation" said:
"Thanks to Xylem and Xylem Watermark, we can double our impact and provide resources needed to secure safe water and sanitation in communities that need it the most".
References:
www.businesswire.com