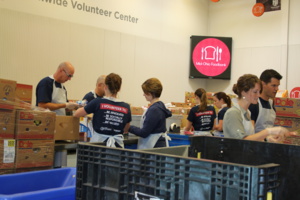 Dailycsr.com – 21 September 2015 – The Company of "Deutsche Post DHL Group" has urged its employees to join its "annual Global Volunteer Day (GVD) initiative". The "Deutsche Post DHL Group" is among the "leading postal and logistics" companies of the world. Under the said initiative the company will be uniting all its divisions that are placed all over the world.
As per the last year's record "108,000" members from "117" different countries took part in the initiative. In fact, in the United States alone "5,000 employees" put in over "14,500 hours of their own time" to work in various projects that helped nearly "5,329 people" across the country. This year, the activities related to "Global Volunteer Day" will be conducted from the 17
th
of September 2015 to the 27
th
of September 2015. Moreover, there are many employees who opt to offer volunteering services all through the year whereby they take part in activities that creates a positive impact on the "environment, education and employability" and in turn helps the "disadvantaged" and supports "charitable organizations".
As per this year's agenda, the employees of DHL will be participating in various activities. In the city of Charlotte, the volunteers of DHL Express lent a helping hand in the warehouse of Loaves & Fishes by "sorting food and organizing warehouse pallets" so that groceries can be supplied to the families in need; while informing about other volunteering activities of the DHL members, BusinessWire writes:
"In Columbus, Ohio, 185 Supply Chain North America Management Board members and associates put their logistics skills to use providing 470 volunteer hours sorting and packing food at Mid-Ohio Foodbank".
Moreover, Associates collected funds to add to the donations' figure of the company which altogether provided "97,983 meals" to the ones in need "throughout Central Ohio"; while in "Fort Lauderdale" volunteers will be "repainting doors and walls and reorganizing storage areas at Children's Home Society of Florida". Christof Ehrhart of Deutsche Post DHL Group states:
"As a globally operating company, we aim to take on responsibility towards the environment and society throughout all our business operations. This is an integral part of Deutsche Post DHL Group corporate strategy, Strategy 2020. Many of our employees are active throughout the whole year. But during the dedicated period of Global Volunteer Day, we see an additional level of commitment from them. Socially engaged employees are not only giving back to the communities where we conduct business, but also bringing fresh ideas and perspectives back into the company."
The employees of DHL from all corners of the world will in collaboration with its "business partners" along with other non-profit organisations take part in numerous "regional and local projects". The nature of the projects include renovating classrooms, planting trees and cleaning parks, organising "special events" in the old age homes and childcare facilities. According to BusinessWire's report:
"For many years now, Deutsche Post DHL Group and SOS Children's Villages have cooperated closely to help improve educational opportunity and employability for youths. And in Latin America, many DHL employees have helped build emergency housing with TECHO, a nonprofit organization that works to overcome poverty and foster the development of communities".
References:
http://www.businesswire.com