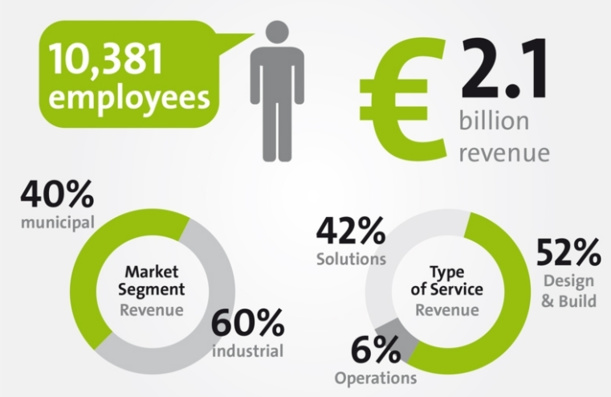 Veolia Water Technnologies - Key Figures
In order to meet the latest water treatment standards in the microelectronics industry, Veolia Water Technologies has developed a customised solution that not only meets the current state of the art but exceeds it as well. By this way, the French company implicitly addresses the Taiwanese market, yet constrained by new regulatory requirements.
A Quick Market Analysis
The microelectronic industry has always been a technological enabler. It is widely recognised as a key factor for economic growth not only by itself but in the whole electronics value chain. In 2004, the worldwide semiconductor market stood at $213 billion, helping to garner sales to the tune of $1200 billion and $5000 billion in services, which represents almost
10% of the world's GDP
.
In this modern digital age, electronics governs most aspects of our lives. With the phenomenal growth and demand for wearables and for hand held electronic devices, the semiconductor and the microelectronic industries are likely to outperform their
growth forecasts
.
Veolia's Insight into Semiconductor Market Issues in Taiwan
In Taiwan, semiconductor and microelectronic industries are widely supported by the State. As a matter of fact, it is part of its national industrial policy. The production of semiconductors and microelectronics requires large quantities of water. For example, a volume of 7,500 litres of water is required in order to produce a single wafer measuring just 300mm. For comparison, a wafer fabrication plant typically consumes the equivalent of the water requirements of 50,000 homes in a single day.

The industrial and waste water treatment industry is set to grow by $0.6 Billion by 2016. With Veolia introducing its ground breaking waste-water treatment technology, it is likely to have a positive response from the microelectronic and semiconductors industries.

As per Veolia's assessments, the growing population of the emerging nations such as India, China, Indonesia, etc., will be the driving force which will push market demands for wearables and electronic devices in the near future. Asia is also said to be the leading figure in the global production of microelectronics like flat panel display, PCB, semiconductors and HDD with Taiwan holding the lion's share of 20%. Thanks to its national industrial policy, Taiwan is recognised as the global leader in the semiconductor industry.
The Water Footprint of Microelectronic Market
As per the Global Water Intelligence's (GWI) 2010 report, microelectronics - along with the five other industries - consume the maximum water. This is so because "printed circuit boards" need to be washed and rewashed, at various stages of its production. Moreover, as per Veolia's assessment, the semiconductor industry represents a major portion of the microelectronic industry's water footprint. For example, in 2007, two of the world's largest semiconductor manufacturers consumed more than 42 billion litres of water.

The increasing demand of electronic devices will see the setting up or the increase in manufacturing capacity of microelectronics which guzzles down billions of litres of water which naturally need to be treated before it is safely discharged. This is where Veolia's waste-water treatment technology comes into play.

As per new Taiwanese EPA (Environmental Protection Administration) regulations put in place as recently as January 2015, all waste-water generated in the process of semiconductor development needs to undergo multiple treatments such as Ammonia and sludge removal along with pre-filtration and degasification at the initial and the final stages. Further, all discharge of NH4-N (ammoniacal nitrogen) and TMAH (a quaternary ammonium salt) are to comply with this regulation.
How It Works
The demands of the Taiwanese market, for a cost-effective solution, need to include eco-discharges solutions that allow for the reusability of recycled water. The ANITA Mox technology, with the help of 'Anammox' organisms, namely the "Anaerobic Autotrophic Ammonia Oxidizer", in "aerobic/anaerobic environments", allows a one-stage deammonification process. Moreover, studies show that in the presence of Anammox autotrophs, the O
2
consumption reduces by 60%, the alkalinity level drops down to 50%, and the COD consumption drops by 100%.
Researchers from Veolia Water Technologies conducted a variety of experiments and have developed a bio-farm strategy along with a MBBR ("
Moving Bed BioReactors
") System made up of maintenance free materials. These provide an aeration grid, essential to bacterial growth and a retention grid, which protects the bacteria from the incoming elements. With the help of this MBBR system, as per this research report, running costs can be drastically reduced.
Veolia's contributions towards issues related to water management are significant. Anita Mox, its customised solution for the semiconductor industry, could well exceed the growing requirements of the microelectronics market.