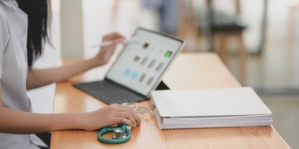 Dailycsr.com – 19 August 2020 – Stephanie Walden writes that doctors in Washington had to leave their elective surgeries and had to revisit their "emergency-response skills" through virtual reality which even though they had learned in medical schools but haven't kept in touch since then.
Similarly, in the New York City, the nursing students who were forced to remain homebound turned to "online simulations" to learn about proper ways of wearing PPE, personal protective equipment". The COVID-19 health crisis made healthcare professionals, whether "udding or established", to pivot their "studies and skills" whereby they had to let go off their traditional classroom or hospital rooms.
Talking about these trying times the chief executive officer of virtual reality "medical training platform" at Health Scholars, Cole Sandau said the company had to address "near-constant" health workers' request seeking "educational resources". He recounted:
"Our chief medical officer got a phone call from a colleague who is a rheumatologist. He said, 'I haven't been in a hospital since I finished my residency 25 years ago, and in a few weeks I have to be in an ICU.'"
More and more organisations are turning to virtual reality trainings to train the healthcare professionals so that they are equipped with the ongoing "surreal situation and the effects". The WHO estimates that at present there are nearly "a global shortage of 6 million nurses", while some cities even experience "a shortage of physicians" for treating "COVID-19 patients" as the doctors need "varying skill sets" to deal with spread of the pandemic.
On the other hand, VR provides a "relatively low-risk environment" for the professionals to learn and relearn "critical skills". In the words of the Global Lead for Virtual Reality in Healthcare at HP, Mary Kate Mahoney:
"In the six months leading up to the crisis, we were already seeing increased interest in VR to deliver patient information and for surgical planning. Now, we're hearing 'We need to educate in a new way.'"
"Even for people who work in the ER, now there's a need to reorient how they perceive what's going on around them and how they deliver care. COVID-19 is just not the same as what anyone is used to seeing."
Through VR, the healthcare professionals get to practice "complex and life-saving skills". Keeping the present crisis in mind, Health Scholars create a programme for helping professionals prepare for "advanced cardiac life support (ACLS) scenarios", a condition often associated with "severe COVID-19 infections". Sandau further added:
"It's so immersive, it really creates the entirety of the environment. Not only do we use VR to process visuals and sound, but with NLP, we also virtualize speech. You're not using hand controllers; you're actually telling people what to do — and they do it."
For more information, kindly click on the link given below:
https://garage.hp.com/us/en/innovation/covid19-vr-training-nurses-healthcare.html
References:
3blmedia.com