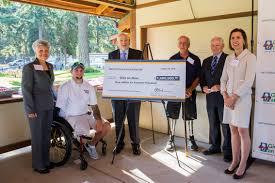 United Health Foundation
has awarded a grant amounting of $1.6 million to 'Give An Hour' so that it can expand its mental health care systems in Houston Texas and in Tacoma Washington.
This grant is part of United Health Foundation's 'Helping Build Healthier Communities' program through which its provides the much needed resources community based organizations required to in order to improve people's health.
Thanks to this grant 'Give an Hour' will be able to raise awareness amongst organizations and agencies the importance of providing culturally competent counselling to veterans and their families.
Apart from this it will also help these Non Profit Organizations to grow and improve their mental healthcare network as well as provide access to veterans and their families to access services and resources by creating a reference resource list in collaboration with other organizations. In this manner common barriers such as stigma, money and transportation will not act as a barrier for veterans and their families.
"We are honored to be able to partner with Give an Hour to help expand its services and ensure our nation's heroes have access to the health care services they need and deserve," said John Mateczun, president, UnitedHealthcare Military & Veterans, a UnitedHealth Group company.
Dr. Barbara Van Dahlen, founder and president of Give an Hour, went on to add, "No single organization can provide all of the care that our service members and their families need and deserve. And one size doesn't fit all when it comes to addressing the invisible wounds of war such as post-traumatic stress and traumatic brain injury. Through this generous grant from United Health Foundation, Give an Hour will work with our partners in Tacoma to expand services and, most importantly, coordinate care for our military and veteran families. Together we will ensure that they are aware of and have access to appropriate and effective support and mental health care. We are proud to work with United Health Foundation on this critical project."
The grant was awarded to 'Give An Hour' during a service day project held at the American Lake Golf Course in Tacoma. Volunteers from UnitedHealthcare, Give an Hour and Optum spent the entire day working alongside a RallyPoint/6 Community Support Team so as to perform a landscaping and maintenance work on the golf course, which was specifically built for wounded veterans and their families.
RallyPoint/6
organizes community members so that they can volunteer at different projects which benefit service members and their families. Today's collaborative work will be the start of a transformative project which will see the American Lake Golf Course turn into a true regulation 18-hole course.
"Veterans made national defense a personal responsibility and want to continue serving their communities. RP/6 is excited to welcome Give an Hour, United Health Foundation and UnitedHealthcare to roll-up their sleeves alongside us on service projects that place veterans front and center," said Tony Belot, RP/6 Director of Programs.
'Give an Hour' will work extensively in the Tacoma region in order to increase mental health professionals in its network who in turn will provide free counselling to veterans and to the military population.
Mental health professionals who are willing and interested to join the 'Give an Hour network' can complete an
online application form
and join the team. Veterans, members of the military as well as the general public can also locate health professionals in their area by visiting the '
Give an Hour
' site.
Source(s):
http://www.businesswire.com/news/home/20150818006560/en/Give-Hour-Receives-1.6-Million-United-Health#.VdmH-CWqqkp