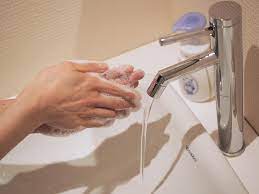 Tork Clarity Hand Washing Foam Soap was named the Innovation Industry Choice Award winner by Facility Service Providers at the ISSA Show North America 2022 in Chicago. Tork, an Essity brand, has developed an innovative formulation to assist facility managers, their teams, and decision makers in meeting and addressing three business-critical needs: hygiene, efficiency, and sustainability.
Tork, the global leader in workplace hygiene, assists customers in elevating their businesses through sustainable hygiene management through market-leading innovations and expert guidance. Tork Clarity Hand Washing Foam Soap, along with other products and services, demonstrates Tork's commitment to understanding customers' needs and delivering best-in-class solutions.
In addition to a comprehensive facility hygiene offering that includes award-winning products and services, the Tork assortment includes highly effective, long-term hand hygiene solutions. Tork's customer-focused portfolio includes formulas such as Tork Odor-Control Hand Washing Liquid Soap, Tork Extra Mild Foam Soap, Tork Luxury Soft Liquid Soap, and Tork Antibacterial Foam Soap, which address a wide range of hand hygiene needs in a variety of environments. Tork's hand hygiene offering includes sanitizers, as well as manual and automatic dispensers with refills made from carefully selected ingredients.
"We are proud to share that Tork Clarity Hand Washing Foam Soap won this recognition at the ISSA Show North America 2022." said Don Lewis, President of Professional Hygiene at Essity.
"Sustainability is deeply integrated in our innovation process, and we are always looking for new ways to deliver greater hygiene, efficiency and sustainability benefits to our customers."
Tork Clarity Hand Washing Foam Soap is just one of many examples of how we work with our customers to improve their business performance while minimizing their environmental impact.
Tork, a market leader in sustainable hygiene management, creates environmentally friendly products. Tork Clarity Hand Washing Foam Soap is made with 99% natural ingredients and is biodegradable. The refill bottles collapse, reducing waste volume by 70%. 2 Tork Clarity Hand Washing Foam Soap is not only a sustainable option; the entire Tork foam soap line is "Easy to Use" certified and comes in a factory-sealed bottle, reducing the risk of cross contamination.
Tork Clarity Hand Washing Foam Soap has four trusted certifications, including Green Seal, EcoLogo, NSF E1, and is a USDA Certified BioBased product, to help businesses secure sustainability accreditations.
To know more about the Tork Clarity Hand Washing Foam Soap, please click
here
.