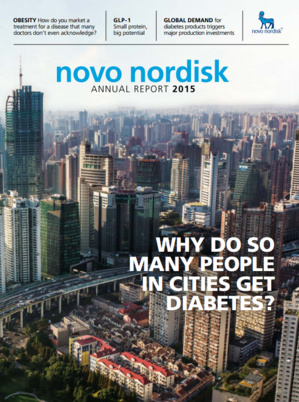 Dailycsr.com – 22 February 2016 – The twelfth integrated annual report of Novo Nordisk for the year of 2015 has been published which gives a detail of "company's year-end performance". The "long-term targets" of Novo Nordisk which also takes in "an integrated approach" accounting for its "financial, social and environmental performance" has been highlighted in the report.

The said report includes articles that stresses in the urgent need for action for addressing the "the growing number of people living with undiagnosed diabetes". Moreover, the progresses made in the "flagship programme" undertaken by Novo Nordisk, namely "Cities Changing Diabetes", besides introducing "an updated environmental strategy to reduce the CO2 impact from so-called indirect emissions".

Here are the key features highlighted by Ethicalperformance, under the Novo Nordisk's "social and environmental performance":

"Financial"
Sales increased by 22% in Danish kroner and by 8% in local currencies to 107.9 billion.
Operating profit increased by 43% in Danish kroner and by 21% in local currencies to DKK 49.4 billion. Adjusted for the DKK 2.4 billion non-recurring income related to the partial divestment of NNIT, the operating margin was 43.6% corresponding to an increase in operating profit in local currencies of 14%.
Net profit increased by 32% to DKK 34.9 billion. Diluted earnings per share increased by 34% to DKK 13.52. Adjusted for the partial divestment of NNIT, net profit and diluted earnings per share increased by 22% and 25% respectively.
8.6 DKK billion expensed in company income tax (+13%)

"Social"
26.8 million people with diabetes have been treated with Novo Nordisk's products of which 5.5 million were treated with insulin for USD 0.19 per day or less, which is the ceiling price for insulin sold according to the differential pricing policy.
The Changing Diabetes® in Children programme has been rolled out in nine countries since its launch in 2009, reaching more than 13,400 children. A total of 108 clinics have been established and more than 6,500 healthcare professionals have been trained or re-trained in diabetes care.
The Changing Diabetes® in Pregnancy programme, also launched in 2009, has since screened more than 33,300 women for gestational diabetes mellitus, and more than 3,800 women have been diagnosed and subsequently treated.
98% of all relevant employees completed and documented business ethics training and passed the related tests.

"Environmental"
CO2 emissions related to energy consumption at production facilities decreased by 11% despite a 9% increase in energy use. The production plant in Tianjin, China, has started sourcing wind power from a windfarm in Inner Mongolia, and the Danish production facilities are now sourcing bio-natural gas.
CO2 emissions from transport (product distribution) decreased significantly by 25% compared with 2014. This is mainly due to an increase in the volume of products being distributed via sea from 72% in 2014 to 83% in 2015.
In 2015, the company generated 34,715 tons of waste, which is an increase of 13% compared to 2014. This is mainly due to an increase in non-recyclable ethanol used in purification processes for insulin production.
In 2015, water consumption increased by 6%, a reflection of increased production and capacity as well as increased activities within research and development. Of the water used at production sites, 14% is in water-scarce regions in Brazil and China.