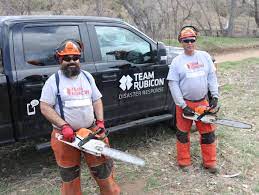 When disaster strikes, heroes emerge. In the wake of the destructive tornado that hit Selma, Alabama, Team Rubicon didn't hesitate to jump into action. But they couldn't do it alone. That's where Tidewater Equipment, a trusted dealer of CASE Construction Equipment in the Southeastern United States, stepped up to make a difference.


With their hearts set on aiding in the tornado disaster response and recovery efforts in Selma, Tidewater Equipment generously donated three CASE TV370 compact track loaders, each equipped with buckets and root grapple attachments, to help Team Rubicon in their mission to restore the city. These powerful machines played a critical role in the intense cleanup operation, making sure Team Rubicon had the support they needed to get the job done.


Thanks to Tidewater Equipment's dedication to the community and Team Rubicon's unwavering commitment to serving those in need, the city of Selma is one step closer to rebuilding and healing from the devastation. Together, they proved that even in the darkest of times, hope and humanity can shine through.


"As a company with locations and customers throughout the Southeastern United States, we understand the realities that catastrophic weather can bring," said Kevin Pittman, Tidewater Equipment's Manager of Construction Equipment and Equipment Rental Divisions.


"We recognize the noble work of Team Rubicon and the relief they bring to help rebuild communities when disaster strikes. Tidewater Equipment was honored to provide machines to make their tough work just a little bit easier."


For over 70 years, Tidewater Equipment has been the go-to equipment dealer for customers in need of top-quality machinery and exceptional service. And now, with their latest location in Enterprise, Alabama, they're taking their commitment to the next level.


In a heartwarming gesture of support for their local community, Tidewater Equipment donated the equipment for the recent Team Rubicon operation in Selma, Alabama. This act of generosity is a testament to their unwavering dedication to making a positive impact in the world.


Tidewater Equipment's newest location in Enterprise, Alabama, is more than just a dealership. It's a beacon of hope and a symbol of their commitment to serving the community. From top-of-the-line equipment to exceptional service, Tidewater Equipment is the partner you can trust to help you get the job done right.


"Our partnership with CASE allows us to provide the best equipment to our customers, and to those in need during disaster relief efforts. We appreciate the opportunity to support Team Rubicon and their efforts to rebuild communities impacted by this terrible storm system," said Pittman.


In times of crisis, it's the strength of partnerships that makes all the difference. And that's why CNH Industrial brand CASE is grateful for Tidewater Equipment's unwavering support and steadfast commitment to providing top-quality equipment for disaster relief efforts during hurricane season.


As the region is impacted by extreme weather and devastating tornadoes, Tidewater Equipment's partnership with CASE is more crucial than ever. Together, they're able to provide the vital support and resources needed to help communities in need during times of crisis.


From the front lines of disaster relief to ongoing projects and beyond, Tidewater Equipment and CASE are dedicated to providing the tools and expertise needed to get the job done right. Their commitment to excellence and passion for making a difference in the world is what sets them apart and makes them the ultimate partners in progress.


"Our dealers are critical partners in helping us provide equipment to those who need it most," said Terry Dolan, Vice President, North America, CASE Construction Equipment. "We are proud to work with Team Rubicon, Tidewater Equipment and our other dealers to support disaster relief efforts and to provide the best equipment to help rebuild communities impacted by natural disasters."


When disaster strikes, Team Rubicon is always there to lend a helping hand. Founded in 2010, this amazing organization has made it their mission to serve global communities before, during, and after crises, providing vital support to those who need it most.


With a long history of successful deployments across the United States and around the world, Team Rubicon has become a trusted source of immediate relief for vulnerable communities impacted by everything from hurricanes and tornadoes to COVID-19 and beyond.


CASE has been proud to partner with Team Rubicon since 2015, working together to develop a heavy equipment training program for volunteers. This program has been instrumental in ensuring the safe and effective use of construction equipment in disaster operations, helping to make a real difference in the lives of those affected by natural disasters and other crises.


Thanks to the incredible work of Team Rubicon and the ongoing support of partners like CASE, communities around the world can rest a little easier knowing that help is on the way in times of need.