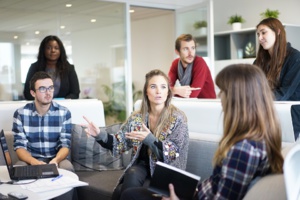 Dailycsr.om – 23 August 2016 – Leaders from industries and other sectors gather annually in the "U.S. Pro Bono Summit" to bring business communities' skills and talent within the grasp of "social change organizations".
This year, the U.S. Pro Bono Summit marked its fifth annual gathering, which took place in California's Santa Monica, on the 13
th
and the 14
th
of April 2016. Taproot Foundation gathered thirty nine leaders from twenty seven companies. The said leaders had pro-bono service experience ranging from "seasoned pro bono practitioners to early-stage explorers".
Here is a
link
for downloading the "U.S. Pro Bono Summit Upshot" for the year of 2016, which provides information about:
Where pro bono fits into the community engagement spectrum
How to boost the talent development benefits of corporate pro bono programs
Taking corporate pro bono programs to the next level: scaling with lean bandwith
Pro bono program evaluation demystified







References:
ethicalperformance.com