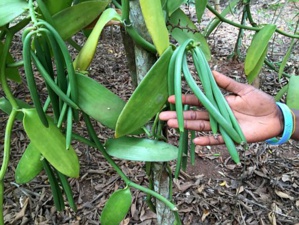 Dailycsr.com – 25 June 2018 – Madagascar's northern Sava is humid region, wherein the shaded jungle canopies shelters growing vanilla vines. The local villagers guard their vanilla crop as a "precious metal", given the strong demand of "natural vanilla". On the other hand, the demand when met with "bad harvest" coupled with "money laundering" has been responsible for a price hike.
Often farmers have faced their vines being "stripped bare" in the dark of the night, as the thieves smuggled them to buyers "in the far-off capital of Antananarivo" which is a supply hub for western European, Asian and American markets. Madagascar supplies 80% of global natural vanilla, which is at the moment in the clutch of a "vanilla boom".
In the words of Helvetas's agricultural expert, Eugenia Lopez:
"People are saying, 'I don't care about growing food to feed myself. I only want to grow vanilla'."
In fact, girls even drop out of schools for marrying "vanilla barons". As Ms Lopez added:
"People are buying cars and motorbikes that they won't even be able to fill with petrol when the price of vanilla crashes".
Madagascar has a chronic malnutrition's history, which is now dealing with under-development issues, while the vanilla thieves seem to add more trouble to the country. Nevertheless, NGOs seem to continue to build pressure on "multinationals" to be transparent with their supply chain origins including the "conditions of the people who produce them".
Victoria Mars is a "fourth-generation member" of Mars family which own the chocolate brands like "Snickers and Twix". The Company of Mars also buys 0.5% of the vanilla produced on a global scale. While, Victoria Mars said:
"I think what everybody's discovering is that the supply chain is broken. We've got to take some responsibility. Vanilla is a small piece, but we've got to start somewhere."
While, the Head of Procurement and Sustainability at Mars, Barry Parkin thinks that companies need to bring in a "change" in their commodity purchase trends, while he also declares that "the age of commodities" are now over.
In order to avail further information on the subject, kindly visit:
https://www.ft.com/content/02042190-65bc-11e8-90c2-9563a0613e56
References:
3blmedia.com