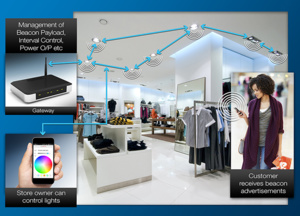 Dailycsr.com – 18 July 2015 – CSRmesh™ technology has hit the market. It has been a collaborative venture of CSR plc and SK Telecom. On the 16th July 2015, the duo launched the first ever "smart LED lightbulbs" range which also incorporates "Bluetooth® Smart beacons". The said technology was tried and tested by SK Telecom whereas CSRmesh helped to develop the beacon network.

The lighting system of CSRmesh is an intelligent one designed to incorporate "unlimited number of smart lightbulbs" in a smart network. The system is very simple to control as it allows one to create a central based network in-store as well as enable "location-based special offers". Moreover, the network can also deliver "targeted information to smartphone users".

The smart mesh system can be used into any "existing lighting fixtures", whereby one can avail better lighting arrangements as the said system utilises "high-quality" LED light-bulbs. Furthermore, the smart mesh of network will provide intelligent lighting by doubling-up as "beacons". Using the smart network of beacons the smart LED bulbs are able send "targeted information" with the help of "Bluetooth Smart". The information reaches the "user's precise location in the store". The "complete intelligent lighting solution" of SK Telecom will come with smart bulbs "fitted with a pre-certified module based on the CSR1010™ chipset".

With the help of CSRmesh, the Bluetooth device that runs on low energy, receives messages and acts accordingly besides forwarding the messages "to surrounding devices" whereby expanding the Smart Bluetooth's range. Likewise, the smart device weaves around itself a "mesh functionality", the first ever of its kind.

Commenting about the CSRmesh, the senior vice-president, Anthony Murray said:
"For retailers, current in-store beacon systems require the installation of many wireless sensors around the shop floor, a process which is often lengthy, expensive, and requires constant maintenance. This solution offers a beaconing system without the need to overhaul a building's infrastructure. With LED smart beacons, a building's existing lighting fixtures offer complete coverage because they are spread evenly throughout the store. The LED beacon also relies on a permanent mains power supply, meaning the service provider no longer needs to manage hundreds of battery-powered devices."

In the head of the section of "Cooperate R&D Centre" along with the C.T.O of SK Telecom, Mr. Alex Jinsung Choi's words:
"It's clear that more large-scale retailers and service providers are now looking to harness the power of location-based communication offered by beacons. The challenge of managing thousands of Bluetooth Smart-enabled beacons in a large space such as a stadium has effectively been solved by smart lighting beacons with CSRmesh."
CSRmesh presents the first ever "commercial lighting solution" with an end-to-end smart LED beacons. The said smart system is designed for LED lightbulbs which can monitored with the beacons of "CSRmesh v1.2 protocol layer" through any Android or iOS systems.
References:
http://news.sys-con.com/node/3371968