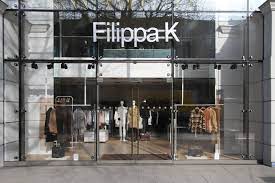 Filippa K announced that the Scandinavian fashion house has launched in China on Alibaba Group's Tmall, which connects businesses with over a billion consumers.

Entering the world's second-largest economy is part of the Stockholm-based company's international expansion strategy.

Filippa K believes that its commitment to sustainable fashion will help it appeal to Chinese consumers. In its collections, the brand incorporates organic cotton, recycled fibres, and materials that promote animal welfare.

"The house has a unique position within high-end fashion, offering a distinctly Scandinavian design perspective that's rooted in sustainability," said Filippa K's CEO Rikard Frost on the brand's entry into China.

Frost, a Swedish native, joined Filippa K last year with the goal of rebooting the company for the post-pandemic landscape by leveraging his experience in e-commerce. He spent over a decade leading Acne Studios' digital transformation from a local denim brand to an international fashion house.

Filippa K's international push comes as the global climate crisis weighs heavily on purchasing decisions. According to a recent survey, 90% of Chinese consumers understand the significance of sustainable shopping.

According to Roland Berger, a consultancy that conducted the survey in collaboration with the fashion industry trade journal WWD, approximately 80% of Chinese consumers try to avoid plastic materials, and nearly half have purchased second-hand or organic clothing in the last two years.

"There is a strong demand [in China] for timeless Scandinavian design and quality goods with a sustainability profile," said Mei Chen, Alibaba's Head of Fashion and Luxury for the U.K., U.S. and Northern Europe.

Female consumers in China are more willing than men to pay a higher premium for sustainable fashion products. According to Roland Berger, the premium on eco-friendly goods remains marginal.

Alibaba aims for Scope 1 and 2 carbon neutrality by 2030 and is collaborating with global brands to provide more environmentally friendly options to Chinese consumers.

Filippa K developed a circularity strategy in 2014, which has guided its efforts to reduce, reuse, repair, and recycle garments in order to reduce its environmental impact.

Filippa K's Tmall store in China debuted with the Autumn/Winter 2022 collection and core collections of women's, men's, active, and loungewear. Spring/Summer 2023, Liisa Kessler's first collection for Filippa K, will be available in November.

Kessler, a multilingual German/Finn, joined the brand earlier this year from the French fashion house Saint Laurent, becoming the first successor to Filippa Knutsson, who co-founded the brand in 1993.

Filippa K was founded in 1993 and is majority owned by Novax, the investment arm of Axel Johnson's family business.