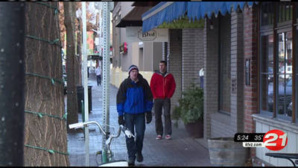 Dailycsr.com – 15 December 2015 – This holiday season, the sixth largest "patient-centered dialysis and kidney disease services" provider, Satellite Healthcare brings special offers to the communities it serves in an attempt to make them a better place.
The administrators and employees alike have initiated the endeavour of "a series of charitable initiatives", whereby the team of Satellite Healthcare will donate "money, gifts and food" to non-profit "community organisations" who have touched many lives across the nation through their "remarkable work".
Chronic Kidney Disease, in short CKD, is diagnosed in every one in ten Americans, which makes up to over twenty six million Americans suffer from this disease, while almost "half a million undergo regular dialysis treatment for kidney failure". The team of Satellite Healthcare dedicate themselves throughout the year to "to improve the quality of life for patients" who are treated in "more than 75 Satellite Healthcare In-center dialysis and Satellite WellBound home dialysis centers".
Besides, Satellite Health care also strives to spread awareness on the subject of Chronic Kidney Disease. As an extended effort of the said work, Satellite Healthcare launched its holiday charitable, while it also plays "an important component of the organization's broader commitment to philanthropy". In the words of the C.E.O cum the President at Satellite Healthcare, Rick Barnett:
"As a mission-driven healthcare provider, we are always looking for ways to meet the needs of people in the communities we serve. We strive to live out the spirit of giving all year long."
Moreover, the Satellite Healthcare's employees at its "corporate headquarters" took their turns in participating the campaign "Twelve Days of Giving", which was created by drawing the inspiration from "Twelve Days of Christmas". Every department members came together to work for raising "thousands of dollars" besides other donations in kind for "Sacred Heart Community Service and Cityteam", they are two "San Jose charities" that help homeless and low-income families with clothing, shelter and food.
Here is a list given by BusinessWire that enumerates "charitable giving projects" undertaken by Satellite Healthcare:
Satellite WellBound in Mercer, New Jersey. purchased and wrapped gifts for children through RISE, a nonprofit organization assisting low-income families.
Satellite WellBound in Lafayette, Indiana rallied donations to create a holiday care package of dry goods, canned foods, toiletries, and other necessities to homeless families at the Lafayette Transitional Housing Center.
Satellite Healthcare Metric in Austin, Texas donated much-needed items to Texas Baptist Children's Home, whose residential programs provide a haven for children and families in crisis.
Satellite Healthcare Poplar in Memphis, Tennessee held a canned food drive to fill baskets for Greater Harvest COGiC.
Satellite Healthcare Mueller in Austin, Texas gave presents to dialysis patients between the ages of 3 months and 21 years at Dell Children's Medical Center.
Satellite Healthcare Kyle, Texas donated food for families in need through the Kyle Police Department's Blue Santa project.
Satellite WellBound in Houston, Texas teamed up with the Houston Fire Department and Prosperity Bank to hold a toy drive to benefit underprivileged children in the city.