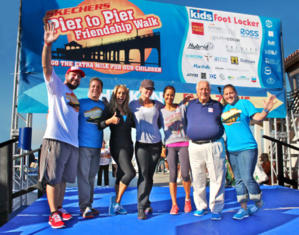 Dailycsr.com – 17 October 2015 – The SKECHERS Foundation put forward a fundraising goal of "$1.2 million" which will be used to organise the "SKECHERS Pier to Pier Friendship Walk" for the year of 2015. The said function is scheduled to take place on Sunday the 25
th
of October 2015 at the Manhattan Beach Pier.
The fund gathered from this effort will be donated to the "children with special needs and education", whereby last year a "record-breaking" amount of "$1.1 million" was gathered in this endeavour. However, this year the list of guests gracing the occasion with their presence include the "boxing legend Sugar Ray Leonard", "television host and actress Brooke Burke-Charvet" and "legendary Hall of Fame baseball manager Tommy Lasorda".
The president of SKECHERS, Michael Greenberg informed:
"When we organized the first SKECHERS Pier to Pier Friendship Walk in 2009, I never imagined how large this event could grow and how life-changing it would become for thousands of families. With the help of our generous sponsors, including presenting sponsor Nickelodeon, it has become the largest walk in Southern California that supports children with special needs and education. It truly warms my heart to see the community join together every year to make a difference and build a better future for our children."
Last year, the "#P2PSteelSports Selfie Challenge" added an amount of "$25,000" into the total fund that was raised for the event. Likewise, even this year Steel Sports will be donating an additional amount of $5 for every selfie upload, whereby participants are encouraged to upload their selfies taken in the Walk through their "Instagram, Facebook or Twitter account". Moreover, the selfies uploaded for the said challenge need to go under the hashtag of #P2PSteelSports. The selfie challenge will last from twenty four hours, starting from 8AM of the day of Walk. The photos uploaded within the window of twenty four hours containing the "#P2PSteelSports hashtag" will "receive a donation credit".
In the words of the C.E.O and the Chairman of Steel Partners LLC, Warren Lichtenstein:
"We are proud to support the SKECHERS Pier to Pier Friendship Walk with the Steel Sports Selfie Challenge, plus a new hands-on STEM (science, technology, engineering and math) activity that allows children to build their own rockets provided by the real rocket scientists at one of our portfolio companies, Aerojet Rocketdyne. This event is a great way to stimulate children's interests in space and science in a family-fun environment, while at the same time raising money for an important cause."
"SKECHERS Pier to Pier Friendship Walk" had begun in the year of 2009, since then the initiative has gathered "$4 million" to help various "education foundations" to improve science lab and technology along with providing better libraries and conducting music programmes. Moreover, SKECHERS foundation has also been beside the teachers supporting them to retain their job, while pushing for systematically reducing the number of students in a given the class session.
Furthermore, the fund raised through the SKECHERS Walk also goes to "The Friendship Circle" which helps the "children with special needs" through "one-on-one peer mentoring" along with various "social recreational" ventures like "field trips, summer camps and music classes".
References:
www.businesswire.com