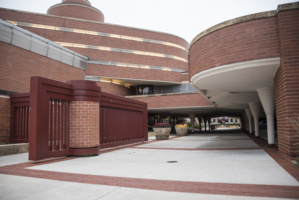 Source: commons.wikimedia.org; (CC BY-SA 4.0)
Dailycsr.com – 31 March 2020 – At present, the entire world is busy fighting the pandemic caused by the "2019 Novel Coronavirus", otherwise called as COVID-19, whereby SC Johnson has made an announcement to reveal that the company contributed "$1 million" to the "Emergency Response Fund" of CDC Foundation for strengthening the infrastructure for domestic as well as "global public health" while addressing the spread of the virus.
In the words of the chairman as well as the chief executive officer of SC Johnson, Fisk Johnson:
"Everyone in the SC Johnson family is deeply concerned for the people and communities affected by this virus. We hope this support will help the Foundation protect lives and the well-being of families."
The above mentioned donation made by SC Johnson will be used to facilitate in reducing the gaps besides mobilising resources for addressing "fast-emerging needs" that arise due to the virus outbreak. Providing immediate resources is a crucial aspect for rapidly containing the "evolving outbreak situations". Among the key efforts made in this line will be to support "public health responders in local communities", to develop "education and awareness campaigns" and to provide "essential needs for those in quarantine" among other such concerns.
Moreover, the President as well as the chief executive officer of CDC Foundation, Judy Monroe said:
"We thank Fisk and SC Johnson for again stepping forward to work with us to address a global health threat. This generous donation will provide us with valuable support to focus critical resources to combat COVID-19."
Keeping up the "long legacy of philanthropy", as SC Johnson works to "improve the lives" of people around the world, SC Johnson, in its press release termed the above mentioned donation as its "efforts to help mitigate the consequences of the COVID-19 outbreak" and added:
"As the epidemic began to take hold in January, the company donated 1 million yuan to the Red Cross in China to aid in its response efforts. As a global manufacturer of home cleaning and disinfectant products, hand sanitizers and other products, the company is exploring additional ways to provide product donations and financial resources to both first responders and those most in need".
For information on taking precautionary measures at this time, kindly visit CDC's website by clicking on the link given below:
https://www.cdc.gov/coronavirus/2019-ncov/specific-groups/high-risk-complications.html
References:
3blmedia.com