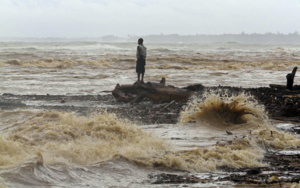 "1.5 to stay alive" has become a catch phrase if not a slogan for Small Island Developing States (SIDS). This is naturally to ensure that global temperatures do not rise more than 1.5 degrees centigrade, for if it does vulnerable island nations are likely to bear the brunt of the devastation, in the best case scenario.
For countries in the Caribbean, even if the rise in temperature is limited to 2 degrees below the threshold, they are still very likely to experience severe climatic changes which could change the way they lead their lives, despite the fact that they are swiftly adapting to climatic changes. If the sea levels rise around 5 feet, 80% of the countries would be no more.
In order to assist and build resilience against this bleak future, the CARIBSAVE and Inter-American Development Bank Multi-Lateral Investment Fund (IDB- MIF) have forwarded them a grant of $100,000 as part of the Coastal Community Enterprises: Adaption, Resilience and Knowledge (C-ARK) project which has a total budget of 2.5 million dollars.
"We've been working with the Bahamian government for nearly 10 years on climate change resilience and trying to strengthen the resilience of The Bahamas and the Bahamian people," said Judi Clarke.
She went on to add, "We want to get through the tough times that have been happening in terms of climate change and the impacts of sea level rise, increased temperatures and degradation of the environment so that we can try to reduce the vulnerability of the tourism product."
Headquartered in Barbados, CARIBSAVE has offices spread all over the Caribbean. From Saint Lucia, Guyana, Grenada, CARIBSAVE's work spans almost the entire Caribbean Islands. It brings it project management expertise, specialist knowledge, innovative technologies an convening power for the achievement of a better sustainable future.
With the Acidification of the sea and the rise of its temperature, sea levels are likely to rise. Bahama's Prime Minister, Perry Christie, is very awake to these facts and the threat that they pose.
"The region is not fully able to adapt or to mitigate the loss and damages associated with climate change induced upon us. These, particularly sea level rise, will irreversibly change the geography and ecology of many coastal states and territories. It has been projected that responding to these factors can have particularly disastrous consequences causing a perpetual recession on each of the CARICOM member states for a significant period as our infrastructure-built environment, settlements and economic wellbeing are concentrated in coastal areas prone to flooding and inundation," said Christie.
He went on to add, "For the region, climate change magnifies the growing concerns regarding food security, water scarcity, energy security and the resource requirements for protection from natural disaster."
The grant that they have received will be used in financing micro, small and medium sized enterprises. It will also be used for community based organisations (CBOs) in Andros, New Providence and Abaco. It is likely to benefit more than 3,000 locals direct and indirectly.
"The Bahamas is gaining the reputation of being at the forefront of environmental issues and looking at sustainable ways that we can protect this environment," said Joy Jibrilu, Director General of the Ministry of Tourism.
"We know that tourism is the cornerstone of our economy and so it is incumbent upon us to ensure that we protect the environment not just for our current use but for future generations. It is grants such as this that ensures that in fact takes place."
Climate Change is already having a detrimental affect on the Bahamas and the weather conditions quickly change from severe to extreme. Rainfall patterns and changes in temperatures are also very visible. In fact a detailed climate modelling for the area predicts an increase of average temperatures, reduced rainfalls, increase in Sea Surface Temperature (SST) as well as as increase in the intensity of tropical storms.
As per the CARIBSAVE's regional director, the change in climate is not something to be worried about in the future, instead it is something to be worried about in the present.
"It's already happening and more and more, scientists are attributing some climate-related events to global climate change – because the science supports this conclusion," she said.
"Even though small island and low-lying coastal states like those in the Caribbean are not historically responsible for the causes of climate change, we are some of the most vulnerable to the adverse impacts. Therefore we need to adapt (find long term solutions to present and future climate challenges). However, we must also play our part in the mitigation of climate change – hence do our utmost to reduce greenhouse gas emissions. This makes economic sense anyway. In a region with so much sunshine, why aren't we using it more?"
She went on to say that "Since much of the region's population and critical infrastructure is located in coastal areas, this is of great concern. Storm surges associated with hurricanes can cause loss of life and much physical damage in coastal areas,"
References:
http://www.ipsnews.net/2015/05/bahamas-builds-resilience-against-a-surging-sea/