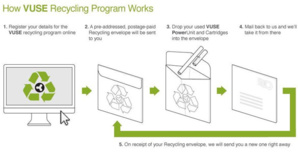 Dailycsr.com – 01 July 2015 – The Reynolds Group of Company introduces a "one of a kind" concept of recycling. There are certain key elements to the 'transforming tobacco' strategy of Reynolds American's which incorporate an innovative drive which will sustain itself throughout any business and will help in "resolving controversial issues related to the use of tobacco" in a business oriented scenario.

Interestingly, in R.J. Reynolds Vapor Company's branch of "Digital Vapor Cigarette" – VUSE – the issue related to cigarette isn't so much bothersome as oppose to the increasing "litter" generated from the "used cartridges and power units". Therefore, the pressing issue relates to the question -
"…what to do with used cartridges and power units?"

However, the answer to this question or the solution to this problem arrived at by the company is simple, short and smart – "Recycle". It is a leading step towards "an innovative approach" through the vapour category or namely the e-cigarette which has been initiated by the RJ Reynolds Vapor Company. The said "vapor category" has been made easily accessible for "adult VUSE consumers" wherein they can take part without much hassle.

The recycling programme of VUSE has been designed to be simple and convenient, whereby the all the consumers of VUSE can freely handle the "used VUSE cartridges" along with VUSE "power units" and vapor "non-VUSE" products". In fact, the vapour manufacturers are also included in the list which prevents harmful lithium ion batteries from being used as landfills. The said "Recycling Program" is unique among "major tobacco or vapor product manufacturer(s)".

The RJ Reynolds Vapor Company's president, Stephanie Cordisco says:
"We knew from the start that recycling would be the right approach. At the heart of the VUSE brand institutional identity is this idea of 'big enough to matter, small enough to care,' so leading the industry in recycling efforts just makes sense. We eliminate any hassle or cost of recycling for consumers, so they can focus on enjoying VUSE while at the same time knowing they're being responsible toward the environment."

The recycling programme of VUSE has simple steps to follow, whereby a consumer needs to sign up in the secure website of vusevapor.com to avail the e-recycling programme. Once the consumers are registered with their addresses, the "postage-paid" and "pre-addressed" recyclable envelopes are posted to them. The respective consumers then put the "VUSE power units and cartridges" along with any such "competitive products" into the envelope and mail the same back to the company of RJ Reynolds.

The company then takes it up from this point, whereby an enveloped gets dutifully shipped to respective customers as soon as the old one is received. Moreover, the users can also request "VUSE recycling kits" which can also be available free of cost. In order to avail "free VUSE recycling kits" consumers need to add the same to their cart while they make any online purchase of "VUSE Accessories".

Furthermore, Cordisco adds:
"VUSE has been designed to offer the affordability and convenience of a disposable e-cigarette, while providing ongoing cost savings and reduced environmental impact by being rechargeable. And reducing environmental impact also means making it easy for VUSE consumers to do the right thing for the environment, through the convenience of the VUSE Recycling Program."
VUSE has been opening doors for smart recycling approaches through its "smart technology" whereby it is able to monitor and regulate at the same time the performance of cartridges, its power consumption rate and heat balance. Their method of disposing the used "VUSE power units and cartridges" is free of cost and environmental friendly.
References:
http://www.reynoldsamerican.com/environmental.cfm?plank=EnvironmentalSustainability9