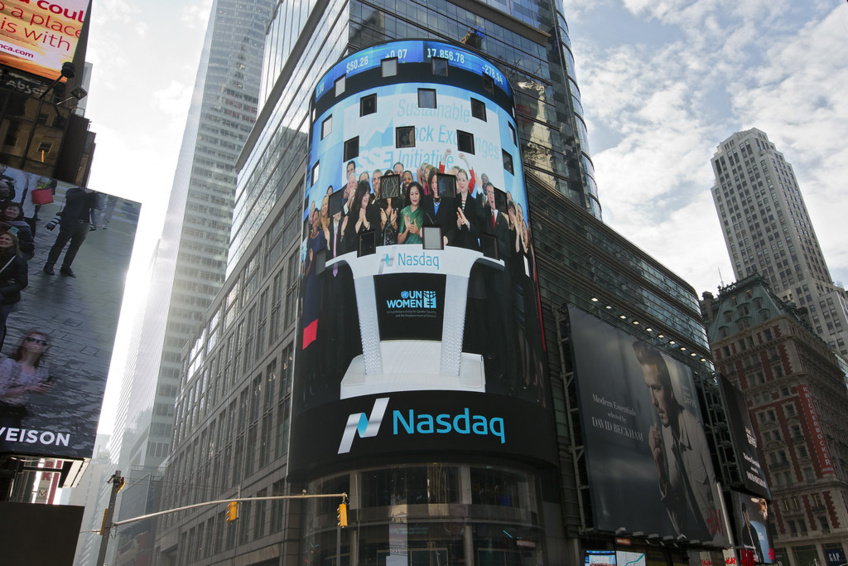 Nasdaq announced today that The Science Based Targets initiative has approved its near- and long-term science-based emissions reduction targets. Nasdaq has committed to reducing absolute Scope 1 and Scope 2 GHG emissions by 100% and absolute Scope 3 GHG emissions by 50% by 2030. SBTi has also validated Nasdaq's pledge to reduce Scope 3 GHG emissions by 95% by 2050 in order to achieve net-zero emissions.

Nasdaq is committed to leading the shift toward more sustainable capital markets through its environment, social, and governance (ESG) efforts. Nasdaq seeks to extend its impact beyond its operations by empowering markets and communities with strategic solutions that have measurable and long-term impacts, guided by our purpose to drive economic progress for all.

"Nasdaq's climate strategy seeks to reduce our carbon footprint and corresponding emissions and diversify our energy mix with a focus on prioritizing renewable energy sources," said Ann Dennison, Executive Vice President and Chief Financial Officer at Nasdaq.

"We are encouraged by the early progress we have made toward our corporate sustainability goals and remain committed to increasing transparency with all our stakeholders through our robust ESG reporting as we continue on our journey to reach our 2030 and 2050 net-zero targets."

Nasdaq pledges to:
From a 2021 baseline, reduce absolute Scope 1 and Scope 2 GHG emissions by 100% by 2030.

Source 100% renewable electricity on an annual basis until 2030.

Cut absolute Scope 3 GHG emissions by half by 2030, starting in 2021.

Ensure that by 2027, 70% of its suppliers, measured by spend on purchased goods and services and capital goods, will have set science-based targets.



Meeting long-term targets
Nasdaq pledges to:
Maintain a minimum of 100% absolute Scope 1 and Scope 2 GHG emission reductions from 2030 to 2050, starting with a base year of 2021.

Reduce absolute Scope 3 GHG emissions by 95% by 2050, starting with a 2021 baseline.
ESG Journey
Nasdaq has increased its use of renewable energy to 100% across its operations, up from 82% in 2020. Furthermore, the company's ESG scores improved across multiple rating agencies, demonstrating Nasdaq's ongoing commitment to implementing and advancing ESG best practices throughout our operations.
The Dow Jones Sustainability Index, Bloomberg's Gender-Equality Index, and the Human Rights Campaign's Corporate Equality Index all recognized Nasdaq. Nasdaq received three significant sustainability rating upgrades in 2022: an "AA" rating from MSCI, up from "BBB," to join MSCI's "Leaders" category alongside peer organizations that demonstrate strong management of their most significant ESG risks and opportunities; "Gold Status" from EcoVadis, a recognition reserved for the top 5% of all rated companies; and a score of 58 in the 2022 S&P Corporate Sustainability Assessment, an increase of 16% from our previous rating.
Nasdaq is also a member of key organizations that are critical to continuing the effort toward consistent and transparent ESG reporting. The United Nations Principles for Responsible Investment (UNPRI), the United Nations Global Compact, the Sustainable Stock Exchanges Initiative, the Task Force for Nature-related Financial Disclosures (TNFD) Forum, and the World Federation of Exchanges' Sustainability Working Group are all members of our association.
"ESG has become a key consideration across Nasdaq's value chain – from how we engage with our suppliers, to how we create a sustainable environment for our employees and help position our clients for success," said Nina Eisenman, Vice President and Head of Corporate ESG Strategy at Nasdaq.
"From our position at the intersection of markets and technology, we believe we play a key role by engaging with our clients on climate risks and providing ESG-focused marketplace solutions that help clients achieve their own ESG objectives."
To know more about Nasdaq's corporate responsibility and sustainability commitments, click
here
.