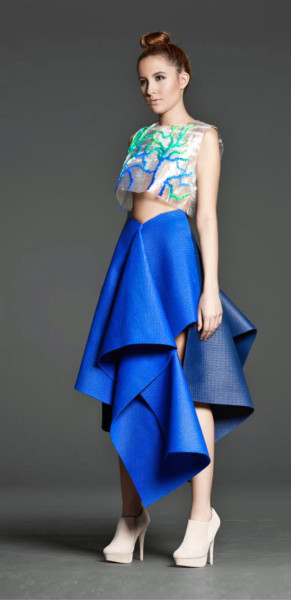 Dailycsr.com – 04 January 2016 – NPE2015 has come up with the "unique fashion event", wherein fashion trends were created from waste plastics. The show was a testimony to the fact that fashion can be woven from waste product in a beautiful and "eco-conscious" manner".
The opening ceremony of "NPE2015", titled "Pursuing Zero Waste Fashion Show", demonstrated the skill of the Savannah College of Art & Design's students who got together to fabricate a "line of recycled creations". SPI's "Director of Marketing and Sales", Brad Williams stated:
"We found the students at SCAD to be not only talented and creative but also very involved with environmental issues. Their designs are vivid demonstrations that recycled plastics can gain new lives in many forms - both as purely utilitarian goods and as objects of beauty. The Pursuing Zero Waste Fashion Show at NPE2015 will add a new dimension to our industry mandate to reduce, reuse, and recycle the valuable materials that make up our products."
The said show was funded by "Green Dot" who manufactures "Terratek bioplastics" and was staged at the West Hall C of Orlando in Florida. The show also celebrated the beginning of the "NPE2015 event" being hosted at the "Orange County Convention Centre" that lasted for a period of five days.
OCCC has developed a "special sector" dedicated to "plastics industry's mandate to reduce, reuse, or recycle its materials" at the exhibition floor in the South Hall. The same has been named as "the Zero Waste Zone", wherein the "sartorial creations" of SCAD is being displayed.
Moreover, the show also featured the work of the students of SCAD, whereby the latter created "a design" with the help of "3D printing technology". The raw materials used in the work are "bioplastics from Green Dot". The show put up a total of thirteen outfits, while one of them was processed by 3D technology, while "a number of dazzling accessories" crafted from "recycled, reused, or repurposed plastics" were also part of the show.
References:
http://www.eppm.com/