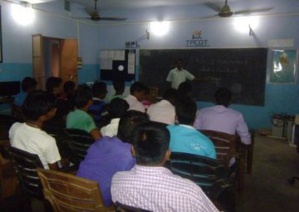 Dailycsr.com – 02 March 2016 – Maithon Power, a joint collaborative effort of Tata Power and Damodar Valley Company in India, under takes a new endeavour to improve the quality of communal life, whereby the organisation organises "computer training and coaching" for the "competitive exams".
The said project comes under "'employability' component", while it has been held at Palarpur based, Upgraded Middle School's premise which attempts to cater to over three hundred students.
The said initiative strives to bring "world class" learning and teaching facilities to the youth who live in remote areas, whereby in turn the programme develops "conceptual understanding" in the candidates and boosts their self-esteem and raises confidence in them.
Moreover, it is also an attempt to "promote digital literacy" besides building up "reasoning" capacity and aptitude for the same in order to push into pursuing a "successful career" in the future. The training sessions focused in giving guidelines and facilities to help the students prepare for "various competitive exams". Additionally, it also strengthens the mathematic skills and increases the level of general knowledge in the youth.
The syllabus of the training programme includes interactive sessions and practical courses besides conducting monthly tests along with "frequent revisions". CPUs, computers, furniture and stationary objects were provided by MPL for running the training sessions, while the E.D cum the C.E.O K Chandrashekhar, said:
"We, at MPL have always been focused on providing educational facilities and guidance to the underprivileged. This programme is a launch pad for the youth from local areas to give their career a bright start and pursue successful and dignified positions. MPL will continue undertaking such initiatives to promote education and skill development of the youth."
After taking part in the training sessions, the students will be made ready to sit for various competitive exams like railway, SSC, and banking among others.
References:
http://www.tata.com/