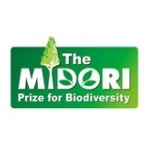 Dailycsr.com – 15 February 2016 – The MIDORI Prize for Biodiversity's entries are invited for the year of 2016. The said prize honours "notable work" that showcase "positive action for biodiversity" and in turn inspires others to follow the same path. The nomination entries have opened on the 15
th
February 2016 and the last day to register is on the 30
th
June 2016.
Midori international "biennial" award is jointly organised by the "AEON Environmental Foundation" along with the "Secretariat of the Convention on Biological Diversity", whereby the duo through this prize selects "three individuals" who contributes in an outstanding manner to the "conservation and sustainable use of biodiversity" and honours them for the same.
The said prize was created by the "AEON Environmental Foundation" in the year of 2010 which was considered as the "International Year of Biodiversity". Likewise, the year of 2016 marks the fourth year for MIDORI Prize for Biodiversity's celebration.
The prize giving ceremony will be hosted in sync with "thirteenth meeting of the Conference of the Parties to the CBD", whereby hosting a "special ceremony" for the same in "Cancún, Mexico", in the month December 2016. Moreover, the award function will be followed by hosting "Winners' Forum" which will take place in Tokyo, Japan during the very month of December 2016.
The nominations can be registered in the official website of "The MIDORI Press" which is open to the "members of the public":
www.midoripress-aeon.net/
References:
http://www.businesswire.com/