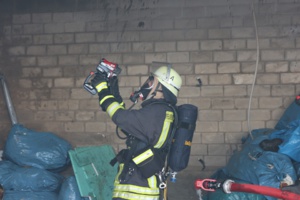 Dailycsr.com – 29 September 2016 – London Fire Brigade employs "4853" fire-fighters who carry out dangerous operation in their uniform, whereby the safety concern being at the forefront of the unit's mind, the development of "thermal imaging technology" is a natural outcome.
London Fire Brigade understands the requirement of protecting its "frontline crews", while being quality conscious of "thermal imagers" at the same time; therefore the said unit took to rigorous testing after which it decided to go with "Scott Safety" to be its "chosen supplier of thermal imaging cameras".
As a result, the fire-fighters from the London Fire Brigade have been equipped with the "X380" thermal imaging cameras which proved to be "one of the most advanced" device among its peers.
Moreover, HSE also reported that:
"With its superior vision clarity, which improves situational analysis in circumstances when firefighters need it most, the capabilities provided by the X380 will enable firefighters to interpret scenes faster and safer, making more tactical decisions, as they work to save lives in Britain's capital".
References:
http://www.healthandsafetyatwork.com/