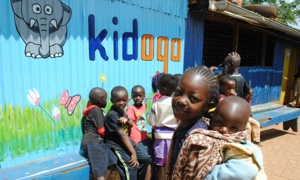 Dailycsr.com – 07 July 2015 – Who says small entities can't leave a big positive impact in the world through small innovative steps? The living testimony of it has been given by a small healthcare centre at Nairobi.

The Kibera slum of Nairobi is reportedly the Africans "largest informal settlement", situated in the Eastern Africa, wherein the Kidogo holds a day-care centre. Kidogo is a social enterprise, which looks after the needed environment of care, and educational rights of "early childhood". Besides, the centre charges only seventy Kenyan Shillings for a day's service per child.

The staffs of Kidogo's care centre devote their time in aiding the children of Africa. In fact, one of them recounts an incident when Lenslot Aoko, a twelve month old child, and a regular visitor of the day-care centre, had shown some "feverish symptoms", on further investigation, as they immediately rushed him to the hospitals, the child was diagnosed of "pneumonia".

Moreover, pneumonia has so far been the biggest agent in the regions of Kibera whichcause the death of numerous children, mostly belonging to the age-group of less than five years.

The co-founder of Kidogo, Sabrina Premji, talks about the case of Lenslot Aoko, whereby she says:
"A middle or upper income child with these symptoms would be admitted to intensive care right away, no question. Lenslot's mother said if her child was anywhere else, they would not have noticed that he was on his final breaths and he would have died."

Even though, Kidogo charges a nominal amount as a fee, it pays full attention towards providing "nutritious meals" and basic healthcare in the form of vaccinations amongst others. Moreover, the centres have also introduced a model of "play-based curriculum" which is being complimented with the personal training.

Kidogo is also active in tutoring and providing material help to "local baby-care centres", which forms part of a "micro-franchising model". The said structure has helped Kidogo to expand its reach. The concept of fee based services was a strategic move to avoid being dependent on any donation. The social enterprise also inaugurated a second centre in another slum of Nairobi, namely Kangemi. The latter opened in the month of January; although with its first six month it "broke even".

In Premji's words:
"We wanted to design a model that could be financially sustainable so that when donor priorities change or early childhood is no longer the sexy thing to fund, our programmes could continue to flourish".

In order to succeed in creating childcare centre, it is very important to have local ownership. Right from the beginning, the founders of Kidogo social enterprise made sure that the said project wasn't look upon as an outsider's venture or as "mzungu", meaning white person's project. As a result, they went about hiring local staff, involved the parents in the administrative suggestions and in the decision making process, whereby the administrators of Kidogo have a harmonious relationship with the local residents.

In the land of Africa, wherein almost "2.5 million children" are raised in the slum, without any early "childhood care" opportunities, Premji points out that:
"Without a basic education and with significant health challenges, these children find themselves locked in a cycle of poverty that is near impossible to escape."