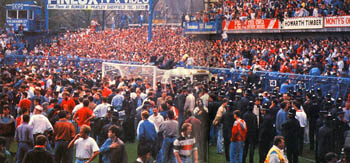 Dailycsr.com – 27 April 2016 – After long sessions and an equally long wait, the jury has concluded that the ninety six victims who lost their lives during the "Hillsborough stadium disaster" that took place in the year of 1989, faced "unlawfully" death.
The investigating jury consisted of "nine jurors", wherein the majority of "seven to two", unanimously agreed that the "former chief superintendent of South Yorkshire Police", David Duckenfield, appointed as the "match commander" on the fateful day showed gross negligent.
It is the negligence on the part of the match commander that was responsible in claiming those lives. The conclusion was drawn after the jurors were subjected to answer a questionnaire consisting of fourteen questions that probed into the cause behind the "deaths of the fans". According to HSE:
"These covered issues such as police planning, defects in the stadium design and the conduct of the stadium engineers".
References:
http://www.healthandsafetyatwork.com/