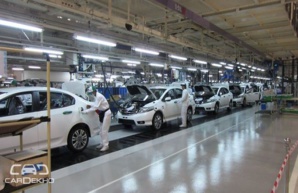 Dailycsr.com – 24 July 2015 – The State of Gujarat, India "is all set to become the Detroit of Asia" echoes the DHNS. The centre belt of the state has inaugurated a "$1-billion car manufacturing unit" recently which will be able to manufacture "240,000 vehicles and 270,000 engines" on a yearly basis. Moreover, the plant has opened up an enormous opportunity for local employment. Consequently, it will offer 2,500 seats for direct employment besides 7,500 seats for indirect jobs "through ancillary units"; although so far nineteen vendors are reported to have opened stalls at the "vendor park" situated within the periphery of the manufacturing unit.

Gujarat has a conglomeration of known motor manufacturers' workshop which includes Tata Motors, Ford, AMW, Bosch, GM, Honda, Maruti Suzuki, Apollo Tyres among "countless others". Anandiben Patel, the chief minister of Gujarat predicts:
"This belt will see production capacity of over 1.25 million cars and over two million two-wheelers operational in 4-6 years."

Tracing back to the origin of this trend of motor manufacturing setting up base at Gujarat, many have come to the conclusion that all began when Tata Motors came to Sanand, Gujarat in 2007 with its "Nano project". As a result, the "sleepy industrial town" suddenly came under the limelight. The present region of Gujarat known for its motor bases, was previously "known for its enterprising farmers". The agriculture was a rich affair of the region, whereby the farmers reaped "a rich harvest of the cash crops"".

Choosing Gujarat as the place to set up the manufacturing base has been a wise decision for all the motor dealers. The government of Gujarat created a "single-window clearance" system which facilitated the paper works. Furthermore, the state has been "very proactive" in providing support through three ways transport possibilities like ports, "good roads and air connectivity" system. Besides, the government of Gujarat has also been steady with political and environment regulations whereby one can have access to "readily available trained manpower". The vice president of General Motors India, Mr. P Balendran, recounts his Gujarat experience:
"We have had a very positive experience, to say the least, since the time we chose Gujarat as the destination for General Motors' first manufacturing facility way back in 1996".

The company of Ford informs that the Gujarat based manufacturing plant of the company is worth "$1 billion" which provides an "integrated vehicle manufacturing facility" along with "engine plant" through features of "stamping, body, paint and assembly operations". A Ford India spokesperson explains the reason for selecting Gujarat as its base:
"Ford selected Gujarat because of its pro-business environment, infrastructure, access to ports in north-western India, and skilled workforce".

Thanks to these company workshops besides more local job opportunities the youth is also being trained in various skills "motor, automobile, diesel, and tractor mechanics", besides becoming successful traders "like fitter, turner, machinist, welder, and painter". Consequently, the people of Gujarat can remain in their villages and continue to work "in thriving industries". According to some, it is a harbinger of "a revolution in the state". Interestingly, the locals consider these manufacturing companies as a part of their community, whereby a local leader said:
"They have been set up on our lands. Traditionally, big businessmen used to shell out monies for betterment of societies. These companies have replaced big businessmen here and so we look to them to fund CSR activities".

Nevertheless, Gujarat is not "banking solely on auto industry", therefore it would wrong to compare it with Detroit. The state is attempting to attract "global giants in other sectors", to which the President Sharma of Apollo Tyres predicts:
"I would not like to compare it (Gujarat) with Detroit or any other auto hub. It has grown as a manufacturing destination in recent times. With several leading auto manufacturers setting up their bases here, it is definitely on its way to be among the biggest automotive clusters in Asia-Pacific".