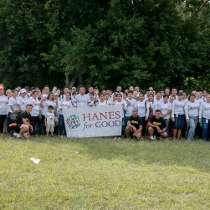 HanesBrands has played a decade long prominent role when it partnered with Delivering Good . The duo have delivered HBI goods worth $2 million to those in need.

"We believe it's our responsibility to help when and where we can, especially in times of crisis and uncertainty," said Nicole Ducouer, Director, Corporate Communications and Community Engagement. "Our hearts go out to the citizens of Eastern Kentucky, and we hope our donations bring some comfort."

Over the last 10 years, HanesBrands and Delivering Good have together distributed goods worth more than $45 million to communities in need, across the globe.

"We're grateful to partner with HanesBrands to help Eastern Kentucky recover and proud of our longstanding commitment to providing aid around the world," said Matthew Fasciano, President and CEO, Delivering Good. "We're stronger together, and we all rise when we help communities in crisis rebuild."

HanesBrands has also donated 10,000 socks at an event with University of Kentucky basketball coach John Calipari along with non-profit organization Samaritan's Feet .

The event distributed new shoes and socks to 5,000 displaced residents.

To learn more about HanesBrands' commitment to sustainability, click here .