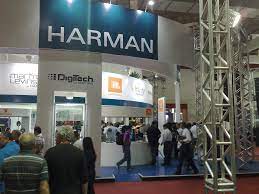 Introducing HARMAN: Pioneering Sustainability through Purposeful Design
At HARMAN, we have built an extraordinary legacy as a global technology leader by embodying thoughtful design and purpose-driven values. Guided by our strategic pillars, sustainability takes center stage in everything we do, including our packaging design strategy and product development process. Recognizing the varied environmental impacts across the product life cycle, we are dedicated to reducing emissions at every level, including those associated with packaging. Our ambition? Achieving carbon neutrality by 2040.
As we celebrate the US National Packaging Design Day on May 7, we are thrilled to share our remarkable strides in sustainable packaging. In 2021, HARMAN initiated its groundbreaking sustainable packaging initiative, starting with the Lifestyle Consumer Audio SBU. This transformative approach introduced guidelines such as FSC certified paper and soy ink printing. We prioritize the use of post-consumer recycled plastic and recyclable paper packaging, steering clear of virgin plastic whenever possible.
Our progress has been remarkable. In 2022 alone, HARMAN revolutionized the packaging of 34 products, embracing sustainable criteria as our guiding star. We are committed to reducing packaging size and have embraced the use of post-consumer recycled paper packaging, meticulously printed with biodegradable soy ink. In the same year, we proudly launched InfinityLab, a category of power accessories including wall chargers, powerbanks, wireless stands, and a speakerphone. These innovative products are elegantly packaged with plastic-free materials, adorned with Forest Stewardship Council (FSC) certified paper imprinted with soy-based ink.
One shining example of our dedication is the JBL WAVE TWS headphones, boasting a remarkable 56% reduction in box size compared to their predecessors. This optimization streamlines shipping processes and significantly lessens our carbon footprint.
By redesigning our most popular Lifestyle Consumer Audio SBU products to minimize environmental impact, we exemplify HARMAN's unwavering commitment to sustainable growth and responsible practices. As proof of our dedication, we expanded our Eco-Edition portfolio by adding two beloved portable Bluetooth speakers, the JBL Go 3 Eco and JBL Clip 4 Eco, which now come packaged in FSC-certified paper with biodegradable soy ink, completely free of plastic.
As we march forward, HARMAN continues to make substantial strides in reducing our environmental footprint. Undoubtedly, our packaging design has played a pivotal role in this journey, reflecting our unwavering dedication to a better, greener future.
To learn more, about our Sound Purpose ESG platform, lick
here
.