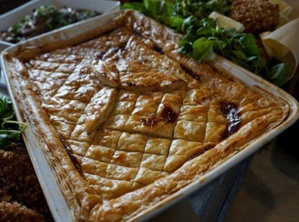 Dailycsr.com – 02 December 2015 – Sodexo has started a "new range of sustainable school meals" which is named "Green & Lean".

The said initiative is a "pilot project" which has been launched in collaboration with Soxedo and WWF "on LiveWell, WWF-UK's flagship programme" which strives to motivate policy makers and business firms alike to "facilitate the adoption of diets which are both healthy and sustainable".

The chefs from Sodexo along with the experts at WWF worked together to make the meals low on carbon and nutritious at the same time, whereby making sure that the ingredients are supplied from responsible sources. Likewise:
"...plant-based foods have to account for at least two thirds of the volume of each meal; refined grains are replaced with whole grains; and meat and fish has to have relevant certification, such as MSC or RSPCA Assured. They include favourites such as beef lasagne, chicken and leek pie and Lancashire hot pot".

Chef Tom Allen of Sudexo was at the charge of "executive development chef" for the programme of Independent Schools, whereby he commented:

"It was really important that the meals we created tasted great. The idea was to make small changes to popular, well-loved dishes that would up the nutritional content and reduce the environmental impact, without dramatically changing the taste or the look of the dish."

Moreover, Sudexo has more plans up its sleeves, whereby it intends on launching the "Green & Lean brand" in the market to "other clients in the schools and universities sector" that will form part of its "corporate services business".