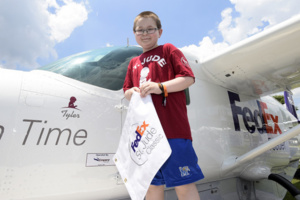 FedEx Corp. (NYSE: FDX) recently announced a $1 million donation to the
St. Jude Children's Research Hospital®
to support the hospital's continuing research against pediatric cancer and other complex childhood diseases. FedEx is making this contribution in the honor of last year's FedEx Cup Champion, Billy Horschel. This donation is the first of the three year commitment, promised by FedEx towards St. Jude Hospital, on behalf of each year's winner of the FedEx Cup.
In addition to the donation, FedEx along with St. Jude dedicated a FedEx Cessna Cargo plane to 9 year old Tyler West. The plane, a part of the 670 strong FedEx Express fleet, would now feature Tyler's name beside the St. Jude logo, and would be on display near the driving range all throughout the FedEx St. Jude Classic.
According to Patrick Fitzgerald, senior vice president of Marketing and Communications for FedEx Services, "We are proud to support the groundbreaking research being done at St. Jude, which impacts the local community and the 30,000 FedEx team members based in Memphis, as well as thousands of children and families throughout the world".
Tyler, the son of FedEx Services Security Planning and Engineering manager Sean West, is the fourth recipient of the Purple Eagle dedication, a dedication extended to a St. Jude patient who is the child of a FedEx member. Tyler was diagnosed with acute lymphoblastic leukemia (ALL) in 2013 and is in his second year of treatment at St. Jude. His determination and strength has served as an inspiration to all.
Bill West, vice president of Supplemental Air Operations for FedEx Express, said, ". "As such, FedEx Express is proud to fly the Purple Eagle in our network with Tyler's name and St. Jude's logo proudly displayed, and we're happy to report the program is gaining momentum each year."
Tyler's father Sean West said, "With everything that Ty has gone through during his treatment, it makes me proud to know that FedEx supports St Jude, and they are helping kids like Tyler by bringing awareness and raising money to support the cause".
He also expressed his gratitude for the support extended by FedEx to his family during Tyler's ongoing treatments.
FedEx has been the main sponsor for the FedEx St. Jude Classic since 1986, and has extended its sponsorship till 2017. The tournament has helped raise over $30 million for St. Jude, since the hospital became the sole beneficiary of the event in 1970.
About FedEx Corp.
FedEx Corp. (NYSE: FDX) serves customers and businesses globally with e-commerce, business and transportation services. FedEx's annual revenues clock over $47 billion and its team of 325,000 members work tirelessly to maintain FedEx's promise of reliable and fast service. Learn more at
news.fedex.com
.
About FedEx Express
FedEx Express is the world's largest logistics and transportation firm, dedicated to providing reliable and faster deliveries in over 220 countries. FedEx's ground-and-air delivery network promises successful time sensitive deliveries with money-back guarantee.
About St. Jude Children's Research Hospital®
St. Jude Children's Research Hospital is one of the world's most reputable research centric hospitals. St. Jude's research focuses on understanding, treating and defeating cancers plaguing children and other life threatening diseases. St. Jude has helped cancer survival rate jump from 20% to 80% since its foundation over 50 years ago. Working on its goal towards pushing cancer survival rate to over 90%, St. Jude shares its breakthroughs in research openly to help doctors globally in fighting cancer. To know more or contribute to this fight against diseases affecting children, join the St. Jude mission at
stjude.org
.
One can also follow St. Jude Hospital on
facebook.com/stjude
or on
twitter.com/stjude
.
References:
http://www.businesswire.com/news/home/20150610005038/en#.VX7IGfmqqko