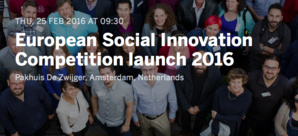 Dailycsr.com – 26 February 2016 – The 2016's edition of the "European Social Innovation Competition" has been announced by the European Commission. Like other years, this year too the competition has a theme, which deals with ideas around "integrated futures", while the European Commission is urging for "creative approaches" so as to bring out the "potential of refugees and migrants".
In this manner, the migrants as well as the refugees alike will be able to a make positive contribution to the host countries in their cultural, economic, political and social life. The said competition for the year of 2016 capitalises on the "significant grassroots response" regarding the "recent arrival" of refugees whereby almost a "million refugees and migrants" came into Europe. Likewise, it taps on the creativity of Europeans for coming out with "new ideas" for fostering "integration" through "a bottom-up, citizen-led approach".
The competition hopes to acquire innovative ideas for services, products, models and technologies that cater to integration process of migrants and refugees alike. Any individual, organisation or group members in the European Union are eligible to take part in the competition's "European Horizon 2020 programme". Moreover, the applications prepared by the migrants and refugees or "co-created" by them are "particularly encouraged" for the competition.
Through this competition, the "most innovative ideas" will be executed in real projects for achieving "sustainable impact". Thirty semi-finalists will be chosen based the "most promising applications". These semi-finalists will receive an invitation for Berlin's "social innovation mentoring academy" wherein they can move forward with their ideas. Eventually, the three best ones will each receive a price of "€50,000" which will be handed out at the "awards ceremony" scheduled to take place in the month of October 2016 in Brussels.
The last date to submit application is on the 8
th
April 2016, while Ethicalperformance reports:
"The competition is organised by the European Commission, supported by Nesta, Kennisland,Shipyard, Impact Hub and Matter&Co".
References:
http://www.ethicalperformance.com/