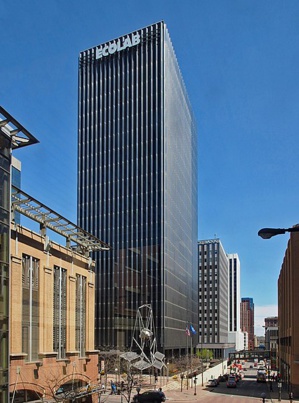 Source: commons.wikimedia.org; (CC BY-SA 4.0)
Dailycsr.com – 30 November 2019 – Douglas M. Baker, Jr. is the Chairman as well as the Chief Executive Officer of Ecolab Inc. whereby on November 22, 2019, he was honoured by "Caux Round Table for Moral Capitalism" with the "Dayton Award for Distinction in Moral Capitalism". This award identifies corporate leaders of Minnesota for their "corporate responsibility". It also celebrates the corporate impact on our societies and lives in turn for the better.
The Caux Round Table for Moral Capitalism's Global Executive Director, Stephen B. Young said:
"We chose Doug as the first recipient of the Dayton Award because of his leadership around water and his dedication to improving lives through the products and services of his company".
From the year of 2006, Baker has been carrying out the dual responsibilities of a chairman and of a chief executive officer at Ecolab, which occupied the second spot on "Newsweek's most recent Green Rankings list", came eighth on "Corporate Responsibility's list of Best Corporate Citizens" and was named on the 26
th
spot in "Barron's list of Most Sustainable Companies". Furthermore, Ecolab is a regular name in "Fortune's list of the World's Most Admired Companies" while the Ethisphere mentioned its name in its "list of the World's Most Ethical Companies" for thirteen times consecutively.
In the words of Baker:
"One of my main responsibilities as chairman and CEO of Ecolab is to make sure our company achieves our purpose: to make the world cleaner, safer, protecting people and vital resources. We have worked hard to ensure that what we sell brings both customer and community benefits. So, for us, there is no conflict between our success and our community's success."
Dayton Award intends to hold up the "heritage of business responsibility" in Minnesota by identifying the deserving recipients, while Young added:
"We have a rich history of business serving the community through jobs, goods and services and support for cultural institutions, schools and charities. The Dayton family helped found that tradition. The five grandsons of founder George Draper Dayton expanded the family business from a single department store to a national retail force while investing in the communities they served. That legacy continues today throughout our business community."
For further information, kindly visit the links provided below:
www.cauxroundtable.org
https://twitter.com/CauxRoundTable
References:
3blmedia.com