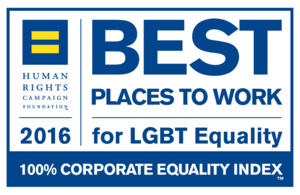 Dailycsr.com – 15 December 2015 – Eaton, a 'power management company', declared that the company was given a "100 percent" score on the 2016 CEI list, namely the Corporate Equality index, the latter being "a national benchmarking survey" which also reports on corporate practices and policies that relate to "LGBT workplace equality" coming under the Human Rights Campaign Foundation's administration.
The Vice-President of Eaton for "global inclusion and diversity", Cathy Medeiros stated:
"At Eaton, fostering an inclusive workplace in which employees can fully contribute their unique skills and capabilities is imperative to helping them achieve their highest potential and in turn helping our business to succeed. We are extremely proud of our score of 100 on the HRC's Corporate Equality Index, which we consider a great mark of our progress."
The CEI list of 2016 scrutinised "1,027 businesses" and rated them in the report, whereby evaluating their practices and policies related to LGBT rules, like "non-discrimination workplace protections, domestic partner benefits, transgender-inclusive health care benefits, competency programs, and public engagement with the LGBT community".
Amid all these business organisations, Eaton has bagged a hundred percent score for "satisfying all of the CEI's criteria". Consequently, Eaton has also earned the designation of "a Best Place to Work for LGBT Equality". The Director of "workplace equality program" at HRC Foundation, Deena Fidas informed:
"In this 2016 Corporate Equality Index, hundreds of major businesses responded to our new standards for workplace equality with exceptional leadership. Eaton not only meets these standards, it goes above and beyond the call of duty, making commitment to equality a fundamental aspect of its corporate values."
In case of further information about the "2016 Corporate Equality Index", kindly visit
www.hrc.org/cei
Moreover, Eaton is a widely recognised organisation, reputed for creating "responsible business practices" along with "fostering" a workplace wherein employees can thrive. Here is a new of few recent honours bestowed upon Eaton:
One of Corporate Responsibility Officer Magazine's 100 Best Corporate Citizens, 2007 – 2015
Recognized by business publication Exame Magazine for inclusion and diversity initiatives in Brazil.
The Zinnov Award 2015 for Gender Diversity at the Workplace in India.
Best in Class for Board Diversity by The Commission on Economic Inclusion, a Program of the Greater Cleveland Partnership.
Human Rights Campaign happens to be the "largest civil rights organisation" of America which is dedicated towards achieving "lesbian, gay, bisexual and transgender equality". It seeks to inspire and unit the nation to join in this endeavour in order to "end discrimination against LGBT citizens", for only then a nation can arrive at "fundamental fairness and equality for all".
Moreover, BusinessWire writes:
"Eaton is a power management company with 2014 sales of $22.6 billion. Eaton provides energy-efficient solutions that help our customers effectively manage electrical, hydraulic and mechanical power more efficiently, safely and sustainably. Eaton has approximately 99,000 employees and sells products to customers in more than 175 countries. For more information, visit
www.eaton.com
".
References:
http://www.businesswire.com/