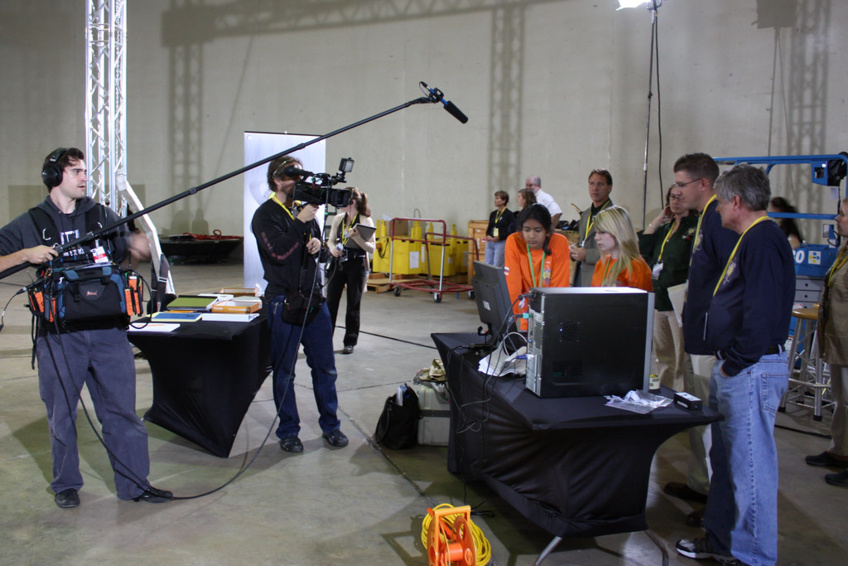 Discovery Education and its social impact partners present a curated collection of engaging, no-cost digital learning resources designed to engage today's students in Engineers Week to teachers and families across the country. Engineers Week, which began in 1951, immerses students in the future of engineering and helps to create career paths. Discovery Education is the global edtech leader, with a cutting-edge digital platform that supports learning wherever it occurs.
Engineers Week, held February 19-25, with the theme "Creating the Future!" shows students the excitement of engineering and its importance to the world. To support this theme, Discovery Education is offering a collection of free resources tailored to any learning environment to educators, students, and families.
The following resources were developed in collaboration with leading social impact partners:
Field Trips on the Internet
The future has arrived. Reach for the Sky's Virtual Field Trip, created in collaboration with Edge at Hudson Yards, takes students on a virtual adventure into NYC's newest and most forward-thinking neighborhood, as well as the incredible observation deck where marvels of modern engineering elevate the possibilities of everyday life, to meet with various leaders about the history, social impact, and STEM behind the new gravity-defying structure. Following the VFT, students can begin engineering by using the Engineering Design Process to create prototypes of their own designs.
The Play to Learn Virtual Field Trip recognizes students' ability to learn and make a difference through the power of play. The Play to Learn Virtual Field Trip, created by Build the Change, an educational partnership between Discovery Education and the LEGO Sustainability Team, transports students from the Home of the Brick in Billund, Denmark, to meet real-life LEGO® play experts and discover the importance of play.
Then, students will meet US Sea Turtle Conservationists who will introduce us to some of the major challenges confronting our planet, and they will learn alongside their student peers as they play, collaborate, and create! Educators can extend the learning with a variety of standards-aligned resources that bring the power of play to life in any learning environment through hands-on challenges that engage students in important sustainability topics such as biodiversity, climate change, and the environment.
The Operation Build It Virtual Field Trip equips students with the skills they need to embrace DIY and engage in engineering in their daily lives. This VFT was created in collaboration with The Home Depot® for the program Science Fair Central, a collection of free resources designed to STEAM-power classrooms and homes across the country as students prepare for careers of the future.
Science Fair Central aims to provide students with the tools they need to take their projects to the next level, with 10 million students from grades K-12 participating in science fairs and STEAM events each year. Students in this VFT are joined by creative and highly skilled makers to learn how to set up an at-home DIY workshop, develop practical trade skills, and know how to tackle challenges that are important to them and their communities.
Work Experiences
During Engineers Week, students can meet real-life engineers from their classrooms thanks to Engineering Dreams, an ASME programme (American Society of Mechanical Engineers). These 30-minute virtual visits introduce your students to real engineers as problem solvers for good, demonstrating how they use the engineering design process and diverse teams to develop the best possible community impact solutions.
Learn more and register your classroom
here
.
The STEM Careers CoalitionTM (SCC) has published a curated collection of engineering professionals in STEM. Follow along as the SCC shows how teachers can introduce students to STEM using over 200 resources designed to uncover students' STEM skills and activate future problem solvers. Students can see themselves in engineering roles that are changing the world, while also delving deeper with hands-on student activations, lessons, and activities.
The Sustainable Futures Virtual Field Trip from Trane Technologies provides students with a unique, up-close look at how a global climate innovation company affects our world. Students will meet employees from various fields to learn how their various roles contribute to the creation of comfortable, clean, and energy-efficient solutions for homes, buildings, and transportation.
The multifaceted learning program also includes interactive tools, resources, and volunteers to engage and inspire students to learn, think about, and solve the world's most pressing sustainability issues, such as climate change and food waste, through sustainable innovation.
"My students are becoming increasingly interested in engineering careers and resources. "I know I can find engaging and relevant resources that will deepen their interest in this exciting career with content from Discovery Education and their trusted partners," said Susan Nimmons, a Science Teacher & Instructional Coach at Aim Academy of Science and Technology in Minneapolis, MN.
Educators and students can find even more engineering resources and meet more STEM leaders in the STEM Careers channel of the Discovery Education K-12 learning platform. Discovery Education provides educators with a recently enhanced learning platform that facilitates engaging, daily instruction in any learning environment by connecting them to a vast collection of high-quality, standards-aligned content, ready-to-use digital lessons, intuitive quiz and activity creation tools, and professional learning resources.
"Discovery Education prides itself on making connections from the classroom to the real-world. These specially curated resources support educators in catalyzing students' STEM interest in the world of engineering," said Amy Nakamoto, General Manager of Social Impact at Discovery Education.