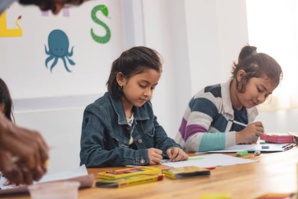 Dailycsr.com – 28 April 2019 –
Discovery Education
is the leader in provider of "digital curriculum resources, digital content and professional development for K-12 classrooms", which partnered with
Lockheed Martin
to surprise the students of Texas and California with a "top-secret STEM mission" which involves creating a "prototype aircraft" aimed to be used in "humanitarian aid mission".
The engineers of Lockheed Martin went to California's Palmdale High School and Texas' Western Hills High School to help the students in with their project challenge. Troy Lambert, an engineer at Lockheed Martin, said:
"There was a time in which I was just like these students. Here I am today, working in a profession I enjoy. I want students to follow their dreams and I hope that path leads them to a STEM career".
The above mentioned project is titled "Designed for Service" and forms part of a larger initiative called
Generation Beyond
, the said programme was launched by Lockheed Martin in the year of 2016 with the partnership of Discovery Education.
This attempt was made with the hope of inspiring students at high school level to take up science as their career and generate the next "generation of scientists and engineers". This effort also extended in trying show the students the exciting side of a STEM career. Moreover, this year, Generation Beyond is launching in five different cities across the country. In fact, many aviation programmes of Lockheed Martin in the past as well as in present times have stemmed from the "innovative thinking at Skunk Works® in Palmdale", California.
The press release from the Lockheed Martin stated:
"Our site in Texas delivers breakthrough capabilities and landmark aircraft that continually redefine flight, including the Fort Worth-built F-35 Lightning II.
"Palmdale and Western Hills High Schools both offer
Project Lead The Way
engineering curriculum, which was a selection criteria for the Designed for Service project".
References:
3blmedia.com