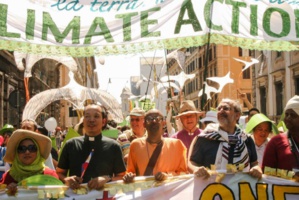 Civil society groups and communities have come together as a single mass under the aegis of Pope Francis, and have marched in Rome to express their gratitude for releasing
Laudato Si
encyclical on the environment, and have called on world leaders for urgent and bolder measures on climate change.
Their banner read, 'One Earth One Family'. People from across different faiths, be it Catholic, Christians, non-Christians, environmentalists, and people sharing a common goodwill for the planet on which we all live marched as a group to St. Peter's Square, just in time for the pope's weekly blessing.
"The truth of the matter is that all of humanity needs to stand united in addressing the crisis of our times. Climate change is an issue for everyone with a moral conscience" – Arianne Kassman, climate activist from Papua New Guinea
The march was accompanied by a climate choir, a musical band along with colourful tableaus of public artwork designed by artists from all over the world.
"As we stand at this critical juncture in addressing the climate crisis, we are particularly grateful to the Pope for releasing this encyclical as an awakening for the world to understand how climate change impacts people across all regions," said Arianne Kassman, a climate activist from Papua New Guinea.
She went on to add, "The truth of the matter is that all of humanity needs to stand united in addressing the crisis of our times. Climate change is an issue for everyone with a moral conscience."
Amongst the many messages relayed to the Pope, during the march, the need for divestment from fossil fuel was prominently displayed, since it is one of the main culprits fueling global warming and climate change.
"The fossil fuel divestment campaign is hinged on the same moral premise communicated by Pope Francis in his encyclical," said the Executive Secretary of Caritas Philippines, Father Edwin Gariguez.
"The campaign serves to highlight the immorality of investing in the source of the climate injustice we currently experience. This is why we hope that moving forward and building on this powerful message, Pope Francis can make fossil fuel divestment a part of his moral argument for urgent climate action," added Father Edwin Gariguez.
Already there is a
petition
that urges the Pope to free the Vatican out of the grips of fossil fuel. This petition has garnered tens of thousands of signatures. Already dozens of religious institutions have divested from dirty polluting industries such as oil, gas and coal. The World Council of Churches, representing more than half a billion Christians spread across 150 countries has also endorsed this green view.
The Church of England has announced that it has sold 12 million pounds in tar sand and thermal coal. Echoing a similar view, the Lutheran World Federation (LWF) has also announced that it will exclude fossil fuel companies from its investment portfolio and urge other 72 million members churches to follow suit. Around 220 institutions worldwide have
commitments to divest
from fossil fuels, with institutions being the largest component in this segment.
With world leaders set to congregate in Paris, later this year, for the United Nations led conference on Climate Change, there is a growing movement that is steadily divesting itself from the grips of fossil fuel and turning to the greener, renewable alternatives.
"The clear path required to address the climate crisis is one that breaks humanity free from the current stranglehold of fossil fuels on our lives and the planet. This encyclical reinforces the tectonic shift that is happening – we simply cannot continue to treat the Earth as a tool for exploitation," said Hoda Baraka, a Global Communications Manager for
350.org
which is one of the organisers of the march.
References:
http://www.ipsnews.net/2015/06/rome-march-celebrate-popes-call-for-urgent-climate-action/