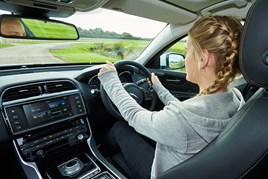 Dailycsr.com – 30 October 2015 – The first owners of the "all-new Jaguar XE" are in all praise about it. The Jaguar XE was launched in the earlier part of this year. Moreover, from the 28
th
of October 2015, the "next generation drivers" will be offered the experience of "Jaguar sports saloon" as the 'Jaguar First' gets launched. The said scheme will offer driving lessons to "11-17 year-olds" in order to prepare them for "their driving tests". Moreover, the programme will also stress on safe driving and being responsibly on "public roads".
The lessons given by Jaguar First can be availed at just "£45" in its beginning range. Bookings are open via the official website:
www.jaguarfirst.com
.
The youngsters under seventeen will be introduced to "fun and safe" ways learning safe driving which will be taught in a "realistic on-the-road environment". The focus of the lessons will be maintained on skill levels and the attitude required to "become responsible driver(s)" of the future.
The candidates will get to drive "a 2.0-litre, 180 PS diesel XE" which has automatic transmission system and is the "most advanced and efficient" saloon sports car that has been ever produced by Jaguar. Only government approved instructors of Jaguar XEs which feature "dual controls" will take the lessons.
The venue will resemble and replicate real road situations although they will be specially "designed private road systems". The venues of the lessons are given below:
Allianz Park, London
Bath and West Showground, Bath
Edgbaston Cricket Ground, Birmingham
EventCity, Manchester
Lingfield Park Racecourse, Surrey
Ricoh Arena, Coventry
After the participant master their basic driving skills, they will be moved to the situation of "driving in two-way traffic" wherein they will deal with "junctions and roundabouts, master turning and steering through slaloms". Moreover, the second stage will also include, bay practices and parking on reverse gear. In fact, some venues will be equipped with provisions wherein the young drivers "can safely experience the handling of the car at higher speeds of up to 40 miles an hour".
According to a research:
"...learning to drive responsibly from an earlier age lowers the risk of accidents. Four hundred people are killed each year in the UK in accidents involving young drivers, and one in five newly qualified drivers will crash their car within six months of passing their test. By extending the period of learning with a qualified instructor, and by introducing the concept at an age when they're more receptive to safety messages, this figure can drop by more than half".
The experiential marketing Director at Jaguar Land Rover, Mark Cameron states:
"Jaguar First is about introducing young people to the concept of responsible driving, helping them in turn to become safer drivers, and also raising their awareness of safety as a pedestrian or cyclist. The XE is a great car for this, as it offers the very latest in technology and innovation, and is also ideal for helping teach young people about environmentally responsible driving.
"The lessons are also great fun and an exciting yet safe way to give new drivers a sense of what it's like to be in control of a car. We have chosen venues across the country to give as many people as possible the opportunity to try their first drive in a Jaguar. Whether our customers choose a 30, 60 or 90 minute experience, they will spend the whole time in the car, driving."
References:
www.europe.tata.com