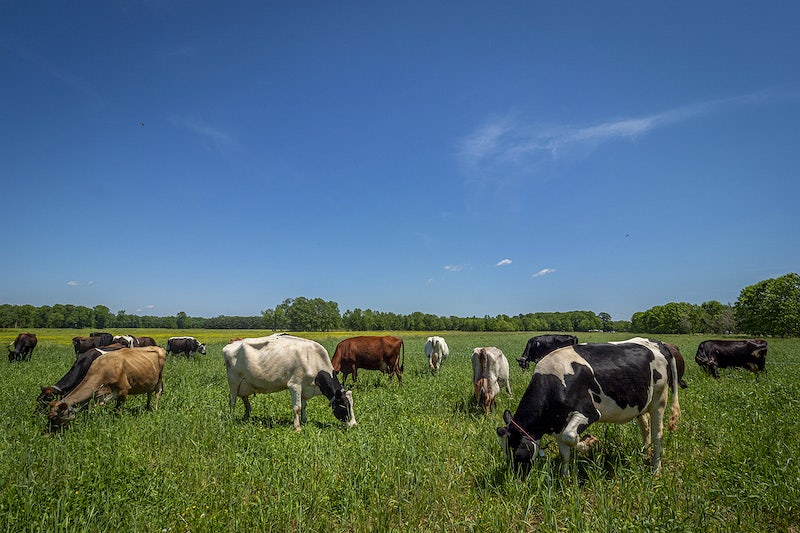 Aurora Organic Dairy has released its 2022 Sustainability Report: A Clear Path Towards a Sustainable Future

Step into a world of transparency and progress with Aurora Organic Dairy's latest Sustainability Report for 2022. As the nation's leading producer and processor of organic dairy products for the store-brand market, we are proud to unveil our unwavering dedication to land management and regenerative agriculture.

Within the pages of this comprehensive report, you'll find an in-depth account of our sustainability performance over the past three years. Let us highlight some of the remarkable achievements that make us stand out:

Embracing Regenerative Land Management:
We have made a resolute commitment to combat climate change through holistic farming practices, including no-till and intensive rotational grazing. These groundbreaking approaches not only help us sequester carbon but also foster soil health, enhance water resilience, and promote nutrient density.

Powering Operations with Carbon-Neutral Energy:
For the second consecutive year, we have successfully achieved our 100 percent carbon-neutral energy goal for all our company operations. This accomplishment has been independently validated by a trusted third-party, solidifying our commitment to a sustainable future.

Setting New Standards with Where Food Comes From CARE Certification:
By attaining the Where Food Comes From CARE Certification, a renowned sustainability standard for the dairy industry, we have subjected each of our company-owned farms to rigorous audits. These audits encompass animal welfare standards, environmental practices, and worker care criteria, ensuring that our operations meet the highest sustainability benchmarks.

Forging Partnerships to Reduce Methane Emissions:
In our pursuit of a greener future, we have collaborated with esteemed universities to evaluate the efficacy of organic feed additives in curbing enteric methane emissions. By exploring innovative solutions, we are actively striving to minimize our environmental impact.

A Commitment to Diversity, Equity, and Inclusion:
We take great pride in our increased dedication to diversity, equity, and inclusion. Our efforts have resulted in 38 percent of supervisory and management positions being held by women, a substantial rise from 28 percent in 2019. We believe that a diverse workforce is vital in shaping a sustainable and vibrant future.

Roaming freely across more than 15,000 acres of lush organic pasture on our company-owned dairy farms in Colorado and Texas, our herd at Aurora Organic Dairy experiences the epitome of natural bliss. But our impact doesn't stop there. By sourcing organic feed, bedding, and other essential commodities for our animals, we actively support an additional 75,000 acres of organic farmland operated by over 100 independent farmers. With this remarkable scale, we aim to create a positive ripple effect, benefiting countless animals, people, and the planet through our unwavering commitment to animal welfare, employee care, and environmental stewardship.

Despite the unprecedented challenges posed by the pandemic, Aurora Organic Dairy has made significant strides towards our pivotal Planet Goals during the reporting period. We didn't let anything hold us back. In fact, we achieved our carbon-neutral energy goal in both 2020 and 2021, showcasing our determination to lead the way in sustainable practices. Furthermore, we've made notable progress in reducing our greenhouse gas emissions, water consumption, and solid waste. With a steadfast dedication to combatting climate change throughout our company-owned dairy farms and milk processing plants, we actively strive to minimize our environmental footprint and contribute to the protection, renewal, and restoration of our precious planet's resources. Our mission goes beyond mere sustainability; we aim to create a thriving ecosystem for the benefit of our business, animals, people, and communities.

Amidst the challenging circumstances of the pandemic and severe weather events linked to climate change in our operating communities, Aurora Organic Dairy has stepped up its support for people and communities. Recognized as a 2022 Top Workplace in the U.S., we take immense pride in fostering an environment where our employees feel valued and appreciated. We remain deeply committed to the well-being of our workforce, knowing that their dedication fuels our continued success.

"The last three years have demonstrated Aurora Organic Dairy's commitment to its mission and values more than any other time in our 46-year history," said Scott McGinty, Aurora Organic Dairy's CEO.

"During a global pandemic, as an essential business, we continued our 24/7 operations. We produced and delivered more milk than ever, which kept dairy cases stocked when consumers needed healthy organic food the most. Throughout it all, our first priority has been to invest in the health and safety of our Aurora Organic Dairy family."

At Aurora Organic Dairy, our commitment to sustainability is at the core of everything we do. We believe in setting ambitious goals and meticulously tracking our progress. That's why our 2022 Sustainability Report serves as a transparent window into our unwavering dedication to achieving our Animals, People, and Planet goals.

Within the pages of this comprehensive report, you'll discover a multitude of initiatives that underpin our sustainability agenda. Each initiative has been carefully crafted to drive meaningful change and propel us toward a future where animals, people, and the planet thrive in harmony.

Get ready to witness the remarkable progress we've made as we take you on a journey of sustainable excellence. Our 2022 Sustainability Report leaves no stone unturned, providing you with an honest and transparent update on our performance. We believe in accountability and transparency, and we're proud to share our achievements and the steps we've taken to fulfill our commitments.

"We understand our dairy farms are a complete system, and everything we do contributes to milk quality," said Dr. Juan Velez, chief agriculture officer. "From the quality of the pasture and organic feed provided to our dairy cows, to the cleanliness of our facilities and how we care for our animals, it is an interconnected system that brings harmony to our animals, people and planet."

Join us as we pave the way for a better tomorrow. Together, we can create a sustainable world that leaves a lasting positive impact on our animals, our people, and our planet.